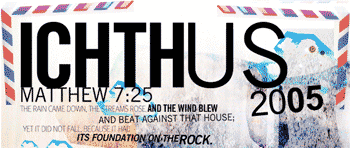 Ichthus 2005 "Let it Rain"
4/21 - 4/24/05, Ichthus Farm, Wilmore, KY
I have been attending Ichthus for the last six years, and each year has been unique and full of adventure, making Ichthus one of my favorite annual events. Ichthus 2005 was no exception. My journey began on Wednesday, April 20. My friend Cassie and I left Missouri that evening and drove until we reached Paducah, KY. Every year we seem to have a problem getting hotel rooms, and sure enough, the staff at the first hotel we tried told us all the hotels were booked up because of an annual quilting festival. Tired and discouraged, we asked them to call around anyway. The only room they could find was a three bedroom apartment. We said we would take it and made our way to the hotel. I will not mention the name of the hotel we stayed in, but it was less than desirable. We were afraid to walk around our apartment without shoes and a mysterious beeping noise kept us from getting much sleep.

Thursdayhursday morning, we made our way to Wilmore. Because we forgot about the time zone change, we were late getting to Ichthus and unfortunately missed Sanctus Real. Upon arriving, I noticed several improvements the festival had made since last year. There were new roads that made it easier to get around and find a camping spot. There was also more gravel to help keep the roads from getting muddy which was a huge problem last year. We checked in and got our press passes. The process was quick and efficient, something I appreciated. We met the public relations staff, and they were very friendly and helpful.

For the past few years, Riley Armstrong has been the emcee at Ichthus. This year, he was replaced by comedian Bob Smiley. While Smiley did his job well, Riley Armstrong is a much better emcee and I hope to see him return next year. The rest of the evening went smoothly, and we attended the concerts of Skillet, Mute Math, and Further Seems Forever.

Friday was rainy and windy. There was quite a commotion by the porta potties when a snake was spotted inside one of the toilets. I never actually saw the snake, but I avoided the place it had supposedly been the rest of the festival. One thing I noticed was how much trash there was at Ichthus. The festival staff might consider having some recycling bins. Although it would be more work, Ichthus would be more eco-friendly and could probably make quite a bit of money.

Friday afternoon we saw John Reuben, Thousand Foot Krutch, Gretchen, Hawk Nelson, and Relient K. Then, the theme of Ichthus 2005, "Let it Rain," manifested itself. Only it did not just rain, it poured. A tornado warning forced campers to evacuate and take shelter in their vehicles. Cassie and I struggled against the wind and the rain to take down our tent. After the storm blew over, I was very dismayed to hear that the rest of the concerts for the evening had been canceled. Although I was disappointed, I applaud the Ichthus staff for putting safety first. They did a good job of evacuating people and handling a potentially dangerous situation.

Saturday, the weather got even stranger. The gravel on the roads helped make them less muddy than last year, but there was still quite a bit of mud. It was also unusually cold. That day we saw Falling Up, Sidewalk Slam, The Insyderz, Roper, BarlowGirl, The Violet Burning and Extol. We had hoped to see Day of Fire during the afternoon, but we could not stand the cold. As we were leaving the Extol concert, the unthinkable occurred. It began to snow. I have seen wild weather at Ichthus over the years, but I never expected to see snow. Unfortunately, the cold and snow kept us from seeing Anberlin, the closing band on the Deep End stage.

While the majority of my experience at Ichthus 2005 was positive, there were a few things that needed improvement. In order to go behind the wall and take pictures on the main stage, members of the media had to have an escort. During several concerts there were no escorts to be found in the PR tent, and I was not able to get the photos I needed. There should either be more PR staff on duty or the media should be allowed take pictures behind the wall unaccompanied. Another thing the Ichthus staff should do is develop the worship stage. A few more well-known worship artists would help boost attendance and overall improve the worship stage. There should also be more diversity in the artists that are booked. There are very few urban artists at Ichthus and Pillar is often the hardest band on the main stage. Ichthus should branch out and book more rap artists and artists that play other types of music. I found the main stage lineup this year to be fairly disappointing, and I spent most of my time at the Deep End. I was especially surprised at Saturday night's lineup. With artists like Watermark, Selah and Michael W Smith, it seemed Ichthus had turned what is usually the most energetic and explosive night into an adult-contemporary extravaganza. While those artists are all very talented and well-known, they did not seem to be an appropriate ending to a festival attended mainly by teenagers and college students.

Overall, my experience at Ichthus 2005 was positive, although a bit lackluster compared to last year. However, Ichthus is still one of the most well-organized festivals I have attended, and I highly recommend it. I encourage the Ichthus staff to branch out when booking artists and to keep making improvements to make the festival even more successful.

For individual show reviews and galleries, please visit the day links below!

-- Laura Nunnery, 5/5/05


Top Five Concerts at Ichthus 2005
1) The Violet Burning
2) Mute Math
3) Roper
4) The Insyderz
5) Hawk Nelson

Top Five Artists I would Like to See at Ichthus 2006
1) Delirious
2) Mat Kearney
3) Sleeping at Last
4) The Cross Movement
5) MxPx

&nbsp


Skillet, Mute Math, Further Seems Forever


John Reuben, TFK, Hawk Nelson, Relient K, & more!


Falling Up, The Insyderz, Sidewalk Slam, BarlowGirl, Roper, & more!
&nbsp