No doubt 2003 was a great year for music; along with well-received releases from several great bands across the board, one of Christian and secular music's most sought-after and prominent rock bands released their biggest (and one of the biggest of that year) album. That record just happens to be called The Beautiful Letdown, and that band just happens to be San Diego's own Switchfoot.
Switchfoot was already on the rise before The Beautiful Letdown dropped, with three records released before it, each getting more acclaim and recognition than the previous. With spots on film soundtracks like A Walk To Remember and Model Behavior, the alternative rockers were building a solid following. With The Beautiful Letdown, there are songs on that record that pushed Switchfoot into the mainstream world, while launching them to permanent headliner status in the Christian market. Songs such as "Meant To Live" and "Dare You To Move" were top 20 hits, and the album became a staple on the Billboard 200 list for some time. It eventually went double platinum in the U.S. and Billboard featured it on their list of Billboard's Hot 200 Albums of the Decade. Along with racking up awards and attention in the secular market, it was a grand slam in the Christian market as well, winning over six Dove Awards throughout the album's tenure. This record marked a special time for Switchfoot, and gave the then-young band an excellent start to their inspiring and successful career.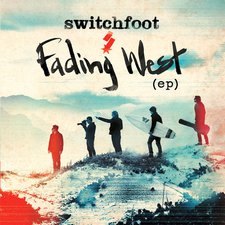 Ten years later, Switchfoot is still at the top of their game, releasing four records between The Beautiful Letdown and now, each being well received, but none quite matching the success of their celebrated opus. They received a GRAMMY award in 2011 for Hello Hurricane, after being nominated once before in 2001 for Learning to Breathe. More recently, Switchfoot released an EP for their forthcoming album, Fading West. The Fading West EP is a small assembly of songs that will also be released on their LP in 2014. These songs all stand well alone, but I'm sure they will shine once listened to in context of the album. The unique thing about Fading West is that Switchfoot is also releasing an eponymous documentary film in December of this year, and it's been said that the album will be used as a soundtrack for the film. As far as style comparisons, the three new tunes sound like Switchfoot, but they show evolution and adaptation as well. There's a little more synth is applied to these three tracks than what they used on The Beautiful Letdown, but nothing too out there to alienate their longtime fans.
Their music has always carried that soul and raw passion, while challenging the listener to think about life, God, relationships, and the world around them. I think one of the reasons why Switchfoot has been able to stay at the level they're at is because of their ability to change and grow as a band, while taking on topics that aren't always talked about in modern music, and nailing them on the head. Throughout their career they've shown this ability to write music for thinking people, and everyone in general, while remaining honest and maintaining their values as a band and as people. The Beautiful Letdown will always have a special place in Switchfoot's history, and many of the songs on that record have inspired this generation, and will continue to inspire others as time progresses. Cheers to The Beautiful Letdown; it is the farthest thing from a letdown, but is still quite beautiful, even after all this time.
-- Cortney Warner

Comments
1. Paul said...
It's hard to believe it's already been 10 years since Switchfoot released their mainstream debut "The Beautiful Letdown." The songs "Dare You to Move," "Meant to Live," and "Ammunition" remain my favorites from the album itself.
3. Jon+Rink said...
Will I ever be welcome back to the site if I say that I really don't like Switchfoot at all? I think they're over-rated and sound like all other alternative rock bands. The only thing unique is Foreman's vocals.
5. Jon+Rink said...
Paul, I was being sarcastic about that part, but I guess it's hard to tell when you're reading the text instead of hearing it. I don't have anything against Switchfoot, I just think that their a little overrated. I do like "The Beautiful Letdown", though. But other than that, I really don't like anything else.
7. Jeremy said...
I remember seeing Switchfoot at the Pontiac Grille on South Street in Philly the Sunday after this album released. At that time, the Pontiac Grille was a small hole-in-the-wall bar (probably held 200 people packed literally wall to wall). I got in line about an hour and a half before the doors were to open (there were no advance ticket sales), and if I had been 15 or 20 minutes later I wouldn't have gotten in; the line literally wrapped around two whole blocks before the doors opened (reportedly, Jon Foreman went out and played some acoustic songs on the street sometime during the opening acts for the people who didn't get in). This show was special. I had seen Switchfoot several times in the years prior, and saw them several times after, but this show was just a special band at just the right place in their journey. It was one of those music "experiences" that you remember forever, even amidst many years and hundreds of concerts.
Commenting has been turned off for this entry.