It's Christmastime again! Yes, Thanksgiving is over, so for those of you who wait until the turkey is fully digested to even think about jingling bells, the time is here.

If you're like us--and especially, me--you've already dusted off some Christmas records or plopped a batch of Christmas favorites onto your mp3 device to start getting into the holiday season again. And each year, there's new Christmas music that tosses their proverbial hats into the ring in hopes to join your annual rotation of holiday favorites.

But what albums do you return to each year?

SOME STAFF FAVORITES
A couple of the JFH staff rounded up a list together of standout albums that we turn to each Christmas season from artists in the Christian music realm. Here are just a few of them: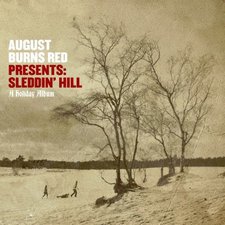 August Burns Red - Sleddin' Hill: A Holiday Album (2012)

Jars Of Clay - Christmas Songs (2007) (and the follow-up 2011 indie EP, More Christmas Songs)

Family Force 5 - The Family Force 5 Christmas Pageant (2009)

Relient K - Let It Snow Baby, Let It Reindeer (2007/2008)



Future of Forestry - Advent Christmas EPs (2008, 2010, 2013)

Rebecca St. James - Christmas (1997)

David Ian - Vintage Christmas (2011), Vintage Christmas Wonderland (2013)

Kevin Max - Holy Night (2005)



Project 86 - This Time of Year (2008), The Midnight Clear Single (2012)

Of course, many artists just do a song or two, and for me, ones that come to mind are Switchfoot's "Evergreen" and "Old Borego," Audio Adrenaline's "Little Drummer Boy," Supertones' "Joy To The World," Five Iron Frenzy's "You Gotta Get Up," NEEDTOBREATHE's "Go Tell It On The Mountain," PFR's "Wonderful Christmastime," Charmaine's "Angels We Have Heard On High," Seven Day Jesus' "O Holy Night, Joy Williams' (before The Civil Wars) "Have Yourself a Merry Little Christmas," Plumb's "It's Christmastime," and TobyMac's "Christmas This Year (feat. Leigh Nash)," among others.

NEW IN 2013
If you're looking for NEW music that's released this year in 2013, several projects have been released including (but not limited to):

Singles: Group 1 Crew ("Holly Jolly Christmas") [iTunes], Britt Nicole ("O Come All Ye Faithful") [iTunes], and Love & The Outcome ("Emmanuel") [iTunes].

Full-length Albums: Brandon Heath (Christmas Is Here), Falling Up (Silver City), Dave Barnes (A December To Remember), Sidewalk Prophets (Merry Christmas To You), and Paul Baloche (Christmas Worship), John Schlitt (The Christmas Project), among others.

EPs: Citizens, (Repeat The Sounding Joy), Meredith Andrews (Behold The Savior), for King and Country (Into The Silent Night), Future of Forestry (Advent Christmas, Vol. 3), and The Rocket Summer (Christmas Madness).
So there's really quite a bit to choose from -- what are YOU spinning this holiday season?

Comments
1. Dan said...
You missed Lincoln Brewster re-release of 'Joy To The World' with some new live versions and a couple of new tunes.

3. John DiBiase said...
@Dan -- I didn't miss it actually. It's just a rerelease with some live stuff (same with Francesca Battistelli's album), I wanted to list all-new stuff without the ones labels were repackaging.
5. Seth S said...
So good to see Rebecca St. James' Christmas album on this list. It's a classic, and always the first to be spun each season. It brings the most warm memories of any album, or music for that matter, that I have.

I also love Phil Wickham's "Songs For Christmas" and DC*B's "Oh For Joy". Both fantastic albums. Josh White & Solid Rock Band's "Light of the World" is also really solid and different.
7. Scott said...
My all time favorite - Behold the Lamb of God by Andrew Peterson; Especially the 2 disc 10th anniversary with the full-length live version of the album. Love hearing Bebo Norman on the live version of Deliver Us. With all the glittery holiday music that's out there, I love listening to this album, which is full of biblical imagery and tells the full story of the birth of Christ, complete with background from the Old Testament.
9. John+DiBiase said...
Daniel - Oh, I have to listen to Bing, Frank, and Percy Faith's Orchestra, as well as Spike Jones, Andre Kostelanetz, Mitch Miller, etc... but this is a Christian music website, so the point of the blog was to focus on CCM market Christmas music :)
11. Alexander Sorake said...
Mercy Me: The Christmas Sessions is worth mentioning if only for rendition of God Rest Ye Merry Gentlemen.
13. Jaycee said...
ANTHEM LIGHTS "SIMPLE LITTLE CHRISTMAS" it's a brand new EP best Christmas music I've ever heard in my entire life!
15. Trevor said...
Surprised no one is mentioning Todd Agnew's Christmas album from 7 years ago. Nothing "traditional" about it, so perhaps it is not really considered Christmassy, but I love his take on all the different characters in the story. Not every song is a hit, but its originality, along with a few great tunes and lines, makes it worth at least a mention!
17. Gabe Jones said...
Where is dc Talk's Yo Ho Ho? haha
19. Scott Fryberger said...
David Crowder*Band's "Oh For Joy" EP and the Slospeak Christmas sampler: both excellent choices!
21. Adam Springsteen said...
This is a good list overall and I know everything can't be mentioned because that would be a long list. However, some Christmas albums not listed that are good to listen to are Mercy Me, Newsong - Christmas Shoes, Joy Electric, Hawk Nelson Christmas EP, Seabird's Christmas EP, Third Day and I may get some disagreement with this one but Plus One's is really good. To everyone Merry Christmas and may you be blessed.
23. Tim+K. said...
I must say that I was surprised at how much I loved Jason Gray's Christmas album "Christmas Stories: Repeat the Sounding Joy." Jason does a little re-imagining of a few classics and wrote a few songs that were just as fresh. Once I heard it, I couldn't stop listening it. It's hard for me to find a new Christmas album that I like, but this one is top notch!
25. Josh O. said...
Project 86 and Relient K's Christmas releases have been staples in my Christmas playlists for some time. Matt Thiessen's Christmas originals seem to get better every year. I would love to hear more from him/RK in the future. This year I've been really getting into DC*B's Oh For Joy and Dustin Kensrue's This Good Night Is Still Everywhere.

Two other Christmas songs I would like to recognize are Neon Horse's "Zat U Santa Claus" and Copeland's "Have Yourself A Merry Little Christmas" (Thanks T&N). My kingdom for a Copeland Christmas album.
27. Drew said...
X Christmas, don't forget that one! It's got one of my favorite Christmas songs on it, "His Favorite Christmas Story" by Capital Lights!
29. Ricky Simpson said...
Andrew Peterson's "Behold the Lamb of God" is my favorite, and I'm going to see the tour this Friday night as an early Christmas present from my wife. Other favorites include albums from Bebo Norman, Third Day, Rebecca St. James,Steven Curtis Chapman, Michael W. Smith's 2nd Christmas album, and Chris Tomlin. I also used to love the Happy Christmas albums back in the day.
Commenting has been turned off for this entry.