Film Review
Disney's been testing the audience as of late with last year's super off-the-wall (but delightful) The Emperor's New Groove and now with the action/adventure Atlantis: The Lost Empire. This fantasy adventure film isn't much more than your basic action film simply illustrated as opposed to acted out in live action. Its audience is geared more towards the younger crowd, but has enough to please the older crowd as well. Any problems? Oh, yeah...
The fantasy of the Atlantis story tends to get more outrageous, in a spiritual sense, as the story progresses. As a unique story with an interesting plot and fun characters, the movie excells. On a more spiritual, true-to-life account, there are many dangerous elements here. (Possible SPOILERS ahead!) We find out that a "deity" is what keeps the Atlantis population alive (who have incidentally lived for thousands of years-- they also make reference to "the gods"). Crystals have special healing powers and also are the people's source of power, life, and energy. The story places much emphasis on these crystals. (End of Spoilers) God is made reference to a couple times in a positive light. Milo also quotes the book of Job, at one point, in a positive manor. However, that is about the extent of the references to Christian beliefs. The rest is fantasy and pretty much New Age. Personally, it didn't ruin my experience of the film because I know the truth and that this fantasy/adventure film is meant to be taken as such and is just an entertaining piece of fiction. However, if this material would be offensive to you or something you wouldn't want to confuse your child with, I suggest not seeing. If necessary, you could always pull your child aside before you go into the theater and make it clear to them that the film they're about to see is completely false and none of the magical elements are true.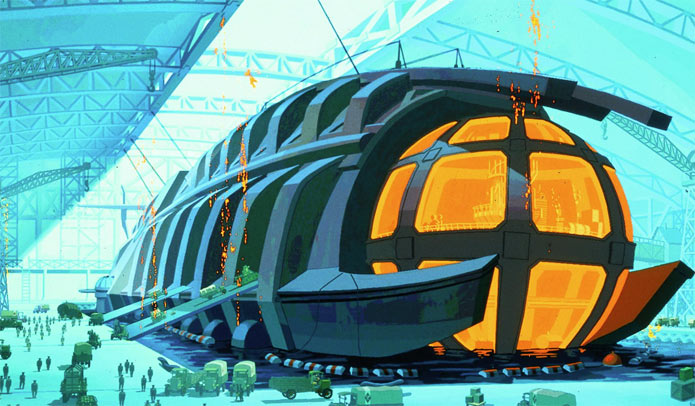 With that said, the rest of the film's elements are pretty good. The movie mixes just enough of a youthful focus with a serious action side and some down-right funny comic relief. However, the film is far from being the best animated Disney film. Some plot elements are indeed too contrived while the film tends to move at a pace that leaves several of the characters (if not all) too flat and underdeveloped. Although not anywhere the complete miss that Titan A.E ended up being, Atlantis does indeed fall a little short of being the super hit it boasts and makes you expect it to be. If you do see it, just remember that the absolute highlight of the film is Vinny the demolitions expert.
So all in all, I thought the movie was still pretty enjoyable. Disney might have some work to do before they perfect the animated adventure genre, but Atlantis is a decent start. - John DiBiase (reviewed: 7/6/01)
Parental Guide: Brief Summary of Content

Sex/Nudity: Helga is seen acting in a seductive manner while in Milo's room. Kida's outfit is not much more than a skimpy 2-piece bathing suit.


Vulgarity/Language: 1 "Good L-rd"


Alcohol/Drugs: 2 references are separately made to whiskey and white wine (but neither is seen)


Blood/Gore: Milo has a little bit of blood on his fingers after touching a bloody scrape on his chest. Later we see Milo has a bloody lip after being punched. We see a character receive a cut to his arm which leads to what appears to be a 'supernatural infection' of sorts that quickly consumes his body.


Violence: Many explosions which result in the death of random people; People fight; A person is punched; A person is cut; Some things catch on fire, etc.

** Disclaimer: All reviews are based solely on the opinions of the reviewer. Most reviews are rated on how the reviewer enjoyed the film overall, not on content. However, if the content really affects the reviewer's opinion of the film, it will definitely affect the reviewer's rating.