Film Review
The story is truly a romantic story, well crafted & suitable to be viewed by couples. In other words, a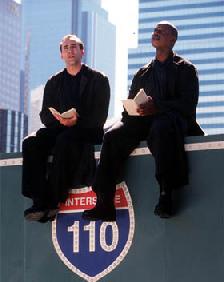 great movie to take your "special someone" to. Unfortunately, it has its flaws: language, nudity & sensuality, & the misrepresentation of God's holy beings called "angels." Of course, i knew, just by the previews, that Hollywood has once again twisted the godly to make it in a way, ungodly. But i decided to view the movie with the mindset that it's... only a movie. Like the whole fact that an angel would give up being an angel so he could have premarital sex with a human. Unlikely. But i don't want to sit here at the computer screen and just rip apart this fine movie. It wouldn't be right, but i just have a thing against this world's portrayal of the things that God has created and is holy. In this particular case: angels.

As far as the content goes... the language isn't too bad, but most of it is in the beginning of the film, so it starts out making you think, Oh no, not another Volcano! And for those of you who didn't see that horrible film, Volcano, the language was horrendous-- even for a PG-13 film. But amazingly enough, the word-choice softens and you can relax and resume eating your popcorn (although everyone can hear you eating over this rather quiet movie). As far as nudity goes... well, there's plenty of off-screen nudity. Like, the person is naked, but you only see their shoulders and up. But the worst comes when Maggie & Seth eventually have sex, and, well, it's quite elaborate. And what do I mean? Well, there's no nudity, but there is the classic heavy-breathing & Maggie showing Seth what it's like to "feel" (Maggie being a "pro"?). There's quite a bit of movement, but again-- no nudity. So, I do advise extreme caution in that there is quite a bit of sensuality and some adult innuendo. As far as blood/gore... there are numerous scenes in the operating room, where someone's insides are briefly shown (please see below for details), but it isn't all that bad. It is all rather tastefully done, though i believe they could have done without them showing you Maggie cutting into someone. It isn't extremely bad... but I cringed. Ouch. The movie actually has its funny times, many that you may not expect in a serious film like this. But it has its happy moments, its sad moments, its "cringe-because-he-should-have-cut-off-his-thumb" moments. So, you may want to consider what I have said & the below details before viewing this film.


- John DiBiase (reviewed: 4/14/98)

Parental Guide: Brief Summary of Content

Sex/Nudity: Heavy. little innuendo between some doctors & when thoughts are read; As Messinger runs into the water naked, his bare butt is seen. Maggie is shown leaving her bed with another doctor, implying that they may have had sex. After a bath, Maggie stands naked before her mirror with Seth standing behind her, but she cannot see him due to him being an angel. All you see of her is from the neck up with no visible nudity. In a pretty sensuous encounter, we see Maggie and Seth having sex, complete with heavy breathing and slow movement. Maggies asks Seth to describe what he's feeling. The scene is mainly a head and shoulders shot with no real nudity. As Seth is about to go in the shower, we see a distorted view of his naked body through the translucent shower door.


Vulgarity/Language: 8 "s" words, 2 cr*ps, 2 h*lls, 1 "a" word, 1 "d*mn," 2 "Oh G-d," 1 "Christ," 1 "Jesus," 3 "Oh my G-d"


Alcohol/Drugs: While in a bathtub, we see Maggie with a liquor bottle; Seth is given a beer at a party, but he doesn't drink it.


Blood/Gore: Mostly surgical. There are various brief shots of surgeries in progress. In one instance, Maggie tries to save a man who is lying on her operating table, by pumping his heart from his open chest cavity in her hands. There is a brief shot of Maggie making her first incision in a body, and we see a small trickle of blood. Seth accidentally runs a knife through his hand, but since he's an angel, nothing happens. Maggie then grabs the knife and tries to cut him again, and still nothing happens. Seth has a small, bloody cut on his hand, on his lower lip, & his eyebrow.


Violence: Seth jumps from a really high building-- & lives. Seth accidentally runs a knife through his hand and nothing happens. He's also beaten up & robbed.

** Disclaimer: All reviews are based solely on the opinions of the reviewer. Most reviews are rated on how the reviewer enjoyed the film overall, not on content. However, if the content really affects the reviewer's opinion of the film, it will definitely affect the reviewer's rating.