Film Review
When I first heard of this movie, it was during the previews for the film We Are Marshall. I hadn't seen anything else related to it beforehand; no movie poster, no IMDB profile, no special screening tickets- just this lone preview. It was only a few minutes long, but it was enough to persuade me to see this film- Freedom Writers. As much as I don't like movies that deal with people my age (because often times I feel it portrays teens inaccurately) Freedom Writers looked, to me, like it was saying something new, bringing some fresh ideas to the table. While it may not have met the tastes for the critics and newspapers because it seemed 'overdone,' it managed to speak volumes to me.
Freedom Writers takes the seat of a typical plight amongst high school kids living in gang-dominated cities; being out of touch with school. This movie takes place in Los Angeles in 1994, just 2 years after the infamous Rodney King riots and in the midst of the O.J. Simpson trial. These two events implanted a sense of racial tension that would in turn spur violence among its younger members. The violence would follow them into school, and create an atmosphere most teachers (which is true for this film) would dread to teach in. However, this doesn't stop new teacher Erin Gruwell from taking a class full of kids that seemed doomed from the get-go, and changing them into young aspiring teenagers ready to literally take on the world. Her patience and respect for her students pays off; as she teaches some 150 kids over the course of four years that they aren't as powerless as they think and can change the world as they know it.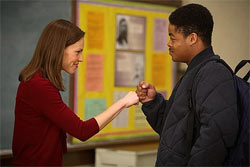 I've never seen a Hilary Swank movie before, not even her Academy Award winning role in Million Dollar Baby. So, when I saw her name on the movie poster and preview, it meant little or nothing to me, except that she was among the elite actresses of our day. This movie proved this thought. Her performance as a white, middle-class teacher amongst a mass of racially divided teenagers was convincing. You notice the evolution of her confidence in teaching the youngsters: in the beginning when she had little or no idea what she was getting into and had no handle on the class, to the end where she was highly respected and the teens would stay late just to be with her. I felt the movie's success or failure was resting on her shoulders, and her acting was some of the best I've ever seen bar none. It was also neat to see that the film provided real Holocaust survivors during the sequences in which they were involved, as the filmakers tried to remain as authentic as possible.

The content of the film ranged all over the proverbial map. Language was uttered every other word in the classroom in the beginning of the movie, as the students had no respect for the teachers' presence. Teens spat out "S", "A", "D", and "B" words- even covering the taboo "N" word. Towards the end of the film, when Gruwell describes what it means to give yourself an F in the class to one student, she says it's like saying "'F--- you' to the teacher and to the class." Gang violence is sporadic as well, being set in the middle of a gang-dominated community. Gunshots go off and hit not only cars, buildings, windows, and the like- but people as well. However, none of these are graphic shots- and we're left with a lot to imagine with just fallen bodies surrounded by blood. Abuse (both physical and mental) is also witnessed from most of the students' standpoints, but the film, again, doesn't get carried away with this. These aspects (even the language at times) aren't given for shock value, or just make the movie 'sell'- but, rather, to give the audience an idea of what the teacher, Erin Gruwell, was getting herself into. Instead of downplaying the movie, these negative occurances make you appreciate Gruwell's role as a teacher, and the kinds of things she had to endure to breakthrough to these students and ultimately inspire them.

Freedom Writers comes off with an idea that's both real, true, and down-to-earth. Rather than having to identify with out of touch ideas, or bizarre concepts- the audience, especially the young adults, can find a common ground with the on-screen young adults. I've heard some reviewers liken this film to Michelle Pfeiffer's Dangerous Minds. Now, I don't know whether this is true or not, only because I haven't seen that movie. Notwithstanding, Freedom Writers seemed original enough for me. While most films geared towards teens seem unmotivated, unreal, and at times downright cheesy; Freedom Writers takes the concept of change in a so-called 'unchangeable' demographic and makes it completely tangible and relevant.

In the long run, I felt that I had watched one of the best movies I've seen in a long time. Without delving too much into the gang life, and at the same time looking behind-the-scenes at Gruwell's life at home- the movie carries a bit of a complex plot to the screen; which in turn makes both a fair mix of drama and tragedy. While this film isn't suitable for kids, it can provide a worthy and perhaps memorable discussion with any teen who sees it- or, perhaps, even an adult.

If you have any questions or comments about the film before you see it (if you decide to), feel free to e-mail us.

- Zachary Anderson (reviewed: 1/6/07)

Parental Guide: Brief Summary of Content

Sex/Nudity: A few minor references


Vulgarity/Language: 1 "f" word, 2 "g*dd*mn," 12 "s" words, 15 "a" words, 1 "a--h*le", 10 "d*mn," 3 "h*ll," 4 "G-d"


Alcohol/Drugs: Some characters casually have some wine during the film; a few kids tell Erin when asked that they know where to find drugs; Andre is offered drugs and refuses but later takes them


Blood/Gore: A man lies in the street bloody after being shot; young Eva is seen with a bloody nose after being beaten up; After a person is shot, we see the hole in their shirt and some blood on the floor under them; A kid has blood on him after a gun accidentally goes off and kills another; We see a photo of a person with a bloody face following being beaten up


Violence: Gang and domestic violence in various forms that results in a few deaths, etc...

** Disclaimer: All reviews are based solely on the opinions of the reviewer. Most reviews are rated on how the reviewer enjoyed the film overall, not on content. However, if the content really affects the reviewer's opinion of the film, it will definitely affect the reviewer's rating.