Film Review
Since making its debut with the first film nine years ago, FOX's Ice Age franchise has grown increasingly more successful. After the series' third -- and arguably best -- installment, Dawn Of The Dinosaurs, two years ago, the studio has been putting the finishing touches on its fourth film, Continental Drift (which is scheduled to release on July 13, 2012). In the meantime, the studio has released Ice Age: A Mammoth Christmas Special, keeping the characters fresh in fans' minds and giving them a new holiday favorite to revisit each year for years to come.
A Mammoth Christmas Special first aired on television just days before making its home entertainment debut as a DVD and Blu-Ray combo pack release. With a running time of just 25 minutes (sadly, four of those minutes are uneventful, slow-scrolling end credits!), the animated short makes for a lean Christmas offering, in the style of many other animated holiday specials that have aired throughout the years. In this particular tale, the story takes place probably a year or so after the previous adventure, with Manny and Ellie's daughter Peaches already being a little bit older and talking. This allows her to interact with the characters on a different level -- and become more of a play pal for the possums, Crash & Eddie. The story wisely doesn't become all about Peaches, either. The filmmakers know what's given this series longevity, so sticking with Sid, Manny and Diego -- with little doses of Scrat mixed in -- helps keep this story warmly familiar. But it's been the additions of Ellie, Crash & Eddie (although I'm not really a fan of those possums) and Peaches that have changed the dynamic a little bit (but not too much) to keep things fresh and fun. So when Sid sets out on a journey to the North Pole to find Santa, some of the characters tag along and it works pretty well.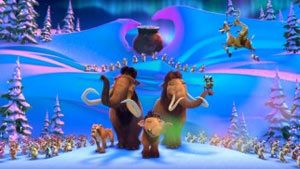 Like the feature films, Ice Age: A Mammoth Christmas Special has fun with the origins of certain modern day items or customs. Just before Sid accidentally destroys Manny's heirloom "Christmas rock" (wait... didn't they migrate? I don't recall them having a huge rock on their journeys. Where did the rock come from if Manny apparently grew up with it??), Sid takes some bugs and items around and decorates a nearby pine tree, which Manny remarks would never catch on. Also, Manny jokingly tells Sid that he's on Santa's "naughty list," which he invents on the spot. Later, when they share this concept with Santa, the iconic Christmas character decides Manny's idea is a good enough one to put into practice for. Little things like this (including how the reindeer team up with Santa Claus) are pretty fun and continue the signature humor and feel of the series.

As a Christmas story worth adding to the annual holiday film collection, A Mammoth Christmas Special is good but maybe not quite good enough to make the must-see-every-year list. Fans of the series shouldn't be disappointed, but overall, it seems to be missing a little something to really make it a real Christmas treasure. It's certainly more "Christmassy" than the recent DreamWorks offering Dragons: Gift of the Night Fury, but that mini-film had a real heartwarming story that captured more of what the season is all about. The same can't really be said for A Mammoth Christmas Special. However, from a fun and entertainment standpoint, it really is pure fun and a must for the Ice Age fans.

Again, the A Mammoth Christmas Special may not be the new It's A Wonderful Life or White Christmas, but it never tries to be either. It's enough holiday fun for the young ones and fans of the Ice Age series to be worth checking out. [Note: the content is pretty mild, but if you have any children who aren't particularly a fan of large spiders, there's a brief scene where Scrat thinks he's holding his beloved acorn and it then expands to actually be a giant spider... which we then see the face of up-close. It's a funny gag, but a little scary for anyone with the slightest fear of those 8-legged pests.]

- John DiBiase, (reviewed: 12/8/11)

Blu-Ray Special Features Review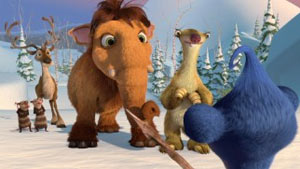 The Blu-Ray combo pack is really the ultimate purchase choice for Ice Age: A Mammoth Christmas Special. If you're looking to get the best bang for your buck, this combo pack includes the Blu-Ray disc, a DVD and a digital copy. But keep in mind that this 25-minute cartoon is really all you're getting. The packaging boasts a preview of Ice Age 4, but all you're really going to see is a 2-minute scene from the upcoming film. It's an amusing scene of course, but it doesn't tell you much about the plot or what you're going to be seeing.

Ice Age: Continental Drift Preview (2:00) - In the exclusive preview of Ice Age: Continental Drift, we see Diego, Manny and Sid floating on a big chunk of ice-covered land after some apparent harrowing experience that stranded them in the middle of the ocean. It's just the three together again... until Sid's grandmother emerges from a tree that is part of the floating piece of land. There are several pretty funny gags, and Sid's grandmother being voiced by Wanda Sykes is noticeable and a nice touch. From the looks of this clip, although it's tough to really judge a movie by two minutes, it looks to be another fun Ice Age ride. I'm just disappointed there wasn't some kind of mini-featurette that talks about the story and cast for the film.

Swinging Jingle Bells Music Video (3:00) - This is a little "Jingle Bells" music video that is made up of clips from Ice Age: A Mammoth Christmas Special. It's minor and not really necessary to include, but it should be fun for the young viewers.

- John DiBiase, (reviewed: 12/8/11)

Parental Guide: Brief Summary of Content

Sex/Nudity: None.


Vulgarity/Language: None.


Alcohol/Drugs: None.


Blood/Gore: During a musical number, we see one of the possums' fingers ice up and one breaks off


Violence: A chunk of bark falls on Scrat; Peaches shoots a snowball out of her trunk at Crash and Eddie; Diego tells a story of how his father would bring home a gazzelle on Christmas morning and he would enjoy ripping into it; Sid causes a tree to shoot a star-shaped piece of ice at the gang and they duck. It smacks into a rock, causing it to crack and shatter; Eddie kicks crash; A guy smacks Peaches on the butt with a drumstick; Eddie punches Crash in the face; Diego pounces Sid; Scrat keeps getting kicked by reindeer feet in the face.

** Disclaimer: All reviews are based solely on the opinions of the reviewer. Most reviews are rated on how the reviewer enjoyed the film overall, not on content. However, if the content really affects the reviewer's opinion of the film, it will definitely affect the reviewer's rating.