Plot Summary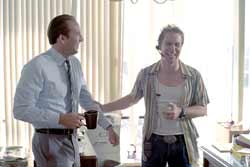 Meet Roy (Nicolas Cage) and Frank (Sam Rockwell), a couple of pros at the small-time con. As in con artists aka Matchstick men. What Roy, a veteran of the grift, and Frank, his ambitious partner, pull off small scams to bring in a few hundred here, another thousand there, to eventually tally what results in a fairly lucrative partnership. Roy's private life, however, isn't as successful. And obsessive-compulsive agoraphobe (and chain-smoker) with no personal relationships, Roy barely has hold of his wits, and when his idiosyncrasies begin to get in the way of his criminal success, he's forced to seek the help of a psychoanalyst just to keep him functioning. Through therapy Roy discovers he has a teenage daughter - a child whose existence he suspected but never dared confirm. What's more troubling is 14-year-old Angela (Alison Lohman) wants to meet the father she never knew. From the moment they meet, Roy's life is changed forever as he must now deal with life with Angela while still managing to keep his lucrative day job...
Film Review
Matchstick Men isn't your typical crime movie. It's clearly not an Ocean's 11, but it's nonetheless a finely crafted film. Director Ridley Scott is best known for films like Alien, Blade Runner, and Gladiator, so Matchstick seems as quite an interesting choice for him. The story plays out from a relatively realistic angle. Nicolas Cage's character as Roy is fleshed out beautifully giving him a well rounded personality. Cage's performance is indeed Oscar worthy. If he is overlooked come Spring '04, then you know the Awards are bogus and aren't worth squat. The rest of the cast did quite well, too. The film held its credibility all the way through without faltering and giving itself up to campy or the outrageous. Sam Rockwell, who I loved in Galaxy Quest, was excellent as Roy's partner, as well as 23-year-old Alison Lohman doing exceptionally as Roy's 14-year-old daughter. The story begins with a relatively serious feel with most of the comedy being light and offered via Roy's idiosyncrises or the interaction between Frank and Roy. Although not exactly a "buddy film", the connection between Roy and Frank is classic. In fact, I'd have liked to have seen more interaction between them.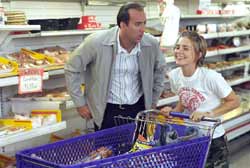 As a whole, the movie came as a surprise to me. The commercials and trailers don't really give you a solid idea of what to expect. While the premise of Roy being obsessive-compulsive might feel a little As Good As It Gets to you, it's presented fresh here, and once past the film's opening scene, you forget all about Jack Nicholson's Oscar-winning role and concentrate on another Oscar worthy performance. What sealed the deal as the defining moment of the film, is the film's conclusion. It's a surprise ending that makes this film worth repeat viewing. But the film is not without its flaws, and some of the movie's content didn't sit well with me...
It doesn't really surprise me, but the language in Matchstick Men was heavy at times as Roy utters the "f" word to his psychiatrist at one point and mouths it in frustration in another scene. A handful of other profanity including "s" words and a collection of blasphemy are sprinkled throughout the film's dialog. However, it was a bittersweet surprise to hear Roy reprimand Frank for using blasphemy. Violence is kept to one rather surprisingly dark scene that was presented in such a realistic vibe that it was borderline disturbing (but will seem light to those used to much much grittier violence). Another thing that disturbed me was the film's portrayal of a fourteen year old girl. Being pretty independent due to her broken family, Angela would take beer from Roy's fridge, smoke, and use profanity. In fact, in one instance, as a form of bribery with her father, Angela begins describing that she'd done stuff with boys that'd make him throw up. Even if kids DO act like that today, do we really need to be reminded how screwed up our society is when we're spending two hours trying to escape it? Regardless, Roy did little to reprimand her behavior which is probably typical in such relationships.
Bottom line is I enjoyed the story and the character depth and Cage's and Rockwell's characters, but this is clearly an adult film and has enough junk in it to make you want to skip it. On a story/art level, I give the film a 3.5 out of 5, but a big thumbs down on the morality factor. Although there are tons worse out there as far as content goes, this one will still be one to watch edited. So, as usual, I recommend -- out of personal experience -- waiting til it's edited on TV or filtered through the DVD-editing program ClearPlay (or anything like it). - John DiBiase (reviewed: 9/15/03)
Parental Guide: Brief Summary of Content

Sex/Nudity: We see some scantily clad women pole dancing and dancing suggestively in a strip club (but see no explicit nudity except for women who just plain aren't wearing much). Angela suggests that she's fooled around with guys before. We see Roy's bare butt as he's running in a hospital gown that's open in the back.


Vulgarity/Language: 2 "f" words (1 spoken, 1 mouthed), 16 "s" words, 4 "g*dd*mn", 3 "h*ll", 1 "a-h*le", 1 "S.O.B", 5 "J-sus", 9 "G-d." Frank gives the finger to a guy behind his back. Angela gives the finger to a bartender.


Alcohol/Drugs: Angela smokes and drinks a little. Some people drink in a bar. Frank and Roy have some drinks. Roy is a chain smoker.


Blood/Gore: Frank's face has some blood on it after being punched; We see him spit some blood out. We briefly see some blood on a man's hand after he's been shot.


Violence: A man chases after a car with intent to harm the driver; Frank and Roy are held at gunpoint; Frank is beaten (off camera, we see his face is swollen and a little bloody); A man is shot.

** Disclaimer: All reviews are based solely on the opinions of the reviewer. Most reviews are rated on how the reviewer enjoyed the film overall, not on content. However, if the content really affects the reviewer's opinion of the film, it will definitely affect the reviewer's rating.