Film Review
You can't ever accuse Big Idea Productions or VeggieTales of not being creative. And the produce family's latest adventure is proof. Sumo of the Opera is about as crazy as they come and for this release, Larry, Bob & company toss so much at you, you'll be digesting it long after watching the video.
Sumo of the Opera opens with the classic VT's theme and takes us right to the kitchen counter where we have come to know these lovable edibles for the past decade. Bob introduces a new "teensy weensy" friend this time around -- a sock puppet cucumber named Lutfi who fills in for Larry in his absence as he attempts to persevere in doing good outside of the comfort of the countertop. The little sock puppet is a cute little addition but when he suddenly breaks into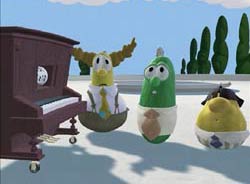 an indepth (but very entertaining) felt-board animation story behind St. Patrick's Day, it feels strangely out of place. And being that this is a late August release, it seems even more odd.

Probably the highlight of the DVD is "Going Up!", a Three Stooges-inspired short involving three delivery guys (including Larry) attempting to get a piano up a super long flight of stairs. Anyone who's seen the Three Stooges or Laurel & Hardy will recognize the story and even the huge stairs from one of their classic films. The Veggies spin on the tale is priceless and a lot of fun to watch. It was also genius to have the French peas reading the silent film subtitles. Larry's silly polka song is also a major bonus and a real joy to behold on the DVD.

The feature story, "Sumo Of The Opera" closes out the latest episode. A Rocky meets Sumo wrestling hybrid that is clever and fun, "Sumo" drives home the consistent theme of persevering through trials as underdog The Italian Scallion (Larry) takes on Apollo Gourd in a match few think he could win. The story just barely misses the punch and weight that previous stories carried but is more than worthy to bear the VeggieTales name, fitting nicely in the ever-growing library of fantastic Veggie titles.

One of the most bizarre VeggieTales videos to ever grace store shelves, Sumo Of The Opera is a fun chapter in the VeggieTales saga and a must for fans. If you're struggling with persevering through trials, you may want to check this out. Whether you're a kid trying to make through those ridiculous math problems or an adult struggling through everyday stresses, these vegetables have a smart and relative message you'll be sure to enjoy.

- John DiBiase (reviewed: 8/5/04)

** Disclaimer: All reviews are based solely on the opinions of the reviewer. Most reviews are rated on how the reviewer enjoyed the film overall, not on content. However, if the content really affects the reviewer's opinion of the film, it will definitely affect the reviewer's rating.