Hey all! Just got back from Creation East in Middle-of-nowheresville, PA! After my one hundreth cup of coffee this week, I'm ready to write you guys a quick little update on how this year transpired for us! As with past years, a full review of our personal experience of this year's Creation Festival East will be posted, but unlike previous years, I have 6,000+ photos to weed through, so it will take a bit longer to get the review and photo gallery up. However, here are some quick thoughts to tide you over...
First off, Creation 2009 got off to an insane start with great performances from Remedy Drive and then total stage domination from Skillet. They were unbelievable this year, and this is from someone who's seen them live many years since their start. Amazing show! I suppose the pyro helped, but they just really have nailed it (and they played two new son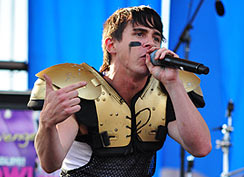 gs from their upcoming album Awake). On Thursday, our highlight was finally getting to see AA Talks -- an intimate session involving original Audio Adrenaline members Mark Stuart and Will McGinniss as they share about the late band's triumphs and failures, mixing in some classic AudioA tunes in the process. Fantastic stuff -- for AA fans and non alike. Friday featured incredible performances from House Of Heroes, TFK, John Reuben (one of the most underrated entertainers), David Crowder, and Third Day, and Saturday featured an absolutely fantastic show from Family Force 5 (completely donned in football gear), and the delicious NEEDTOBREATHE. Some great performances this year indeed, even if the overall line-up wasn't their strongest I've seen. We missed Creation Fest last year, so coming back felt much like a family reunion (a good one!).
Now, for us -- who also live in Eastern Pennsylvania -- Creation Fest still serves as a mini-road trip... and every good road trip needs great music to ride along to, correct? So some tunes you would have heard blaring from my beloved ride were: Project 86's Picket Fence Cartel, a homemade Project mix disc, House Of Heroes' The End Is Not The End, All Star United's The Good Album, Hawk Nelson's Summer EP, NEEDTOBREATHE's The Heat, Remedy Drive's Daylight Is Coming, Audio Adrenaline's Until My Heart Caves In and bloOm albums, The Listening's Transmission #1 EP and The Listening EP, Grammatrain's Kneeling Between Shields EP, Dead Poetic's Vices, and Guardian's House Of Guardian.
So, until the full rundown is done..... it's good to be home, but some great memories were made this year, so I guess it's a little bittersweet for it to be over. We hope to be back again next year!
~ John