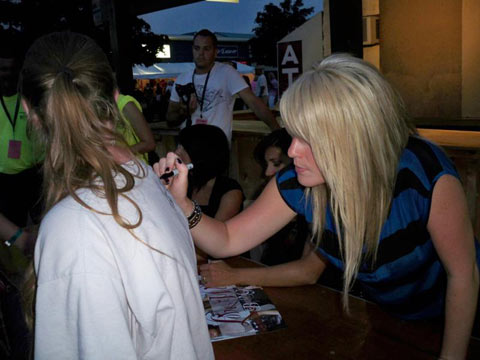 Abby Bayle and Laren Barlow

Favorite Band/Artist: BarlowGirl
Featured Fan: Abby Bayle
Location: Clymer, NY
When/Where Was The Above Photo Taken: Kingdom Bound 2010
What About This Artist's Music Speaks To You: I love BarlowGirl's music because they are so passionate about God. Their songs are fun and easy to relate to for teen girls like me.
Favorite Album by This Artist: Love and War
Favorite Song by This Artist: "Time For You To Go," "Running Out of Time," "5 Minutes of Fame," "She Walked Away"
Number of Times Seen This Artist Live: 1
Favorite Live Show Experience: Kingdom Bound
Favorite Piece Of Merch/Item You Own From This Artist: My 2 tshirts, my tote bag, my signed poster, or the hand decorated TOMS shoes I won from JFH!
Website: N/A

Submit your photo and reasons why YOU'RE a fan for a chance to be featured here!