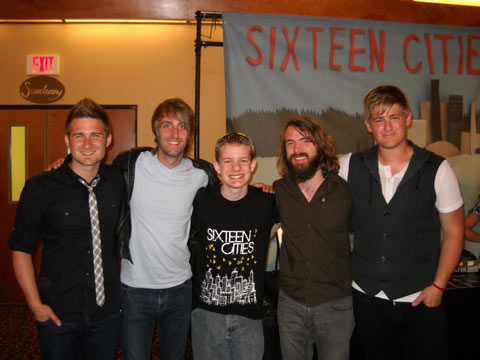 Josiah Warneking, Joshua Miller, Jay Wright, Chad McCutchen, Joel Warneking

Favorite Band/Artist: Sixteen Cities
Featured Fan: Jay Wright
Location: Utica, New York
When/Where Was The Above Photo Taken: Glens Falls, NY on 7.3.11
What About This Artist's Music Speaks To You: Sixteen Cities is a down-to-earth band, and I love the way that their music speaks to the heart of the listener and glorifies God.
Favorite Album by This Artist: Your Love Is EP
Favorite Song by This Artist: "Ready Now," "Pray You Through," "Moonlight Serenade"
Number of Times Seen This Artist Live: 2, and hopefully many more! :)
Favorite Live Show Experience: Playing a tournament with lead singer Josiah Warneking!
Favorite Piece Of Merch/Item You Own From This Artist: Autographed t-shirt
Website: www.jaysmusikblog.com

Submit your photo and reasons why YOU'RE a fan for a chance to be featured here!