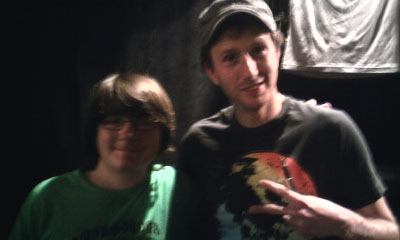 James Bianco and John Reuben

Favorite Band/Artist: John Reuben
Featured Fan: James Bianco
Location: Florida
When/Where Was The Above Photo Taken: October 17th in Jacksonville, while he was on the Fly Me to the Show tour.
What About This Artist's Music Speaks To You: Mostly, his music inspires me to be creative, in everything I do. Also, his music really just makes you think. Especially his last 2 or 3 albums.
Favorite Album by This Artist: Has to be Word of Mouth, not one song on that album isn't amazing.
Favorite Song by This Artist: For the longest time is was "Boy VS the Cynic." After that it was "Word of Mouth" and now it's "In the Air." I don't know anyone who can hear "In the Air"and not love it.
Number of Times Seen This Artist Live: 1
Favorite Live Show Experience: Seeing him in Jacksonville, I traveled like 6 hours to see him there, stood in line outside for like 2. And when he finally came on stage, it was great. First and last time I've seen him live.
Favorite Piece Of Merch/Item You Own From This Artist: Either my John Reuben shirt or the Soon to be in Your Community DVD.
Website: djjr.bandcamp.com (I remix christian rap... There's my remix website)

Submit your photo and reasons why YOU'RE a fan for a chance to be featured here!