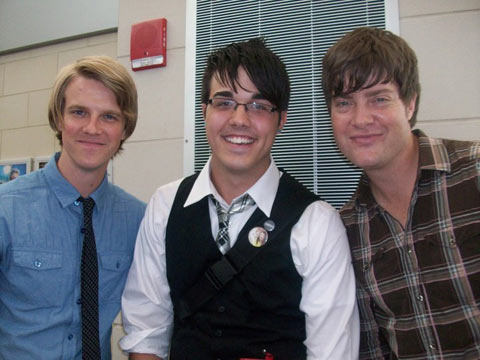 Canaan Hess with Tim and Jon Neufeld of Starfield

Favorite Band/Artist: Starfield
Featured Fan: Canaan Hess
Location: Nanty Glo, Pennsylvania
When/Where Was The Above Photo Taken: Nazarene Youth Conference 2011
What About This Artist's Music Speaks To You: These guys truly have a heart for God. Their songs are just incredible and their lyrics are just so true! It speaks to me because in some of their songs, I can relate to the words they sing.
Favorite Album by This Artist: Tumbling After, Starfield, I Will Go, Beauty in The Broken, The Saving One
Favorite Song by This Artist: Every single one. Flat out.
Number of Times Seen This Artist Live: 1
Favorite Live Show Experience: At Nazarene Youth Conference 2011, they were the worship band for that week. Incredible!
Favorite Piece Of Merch/Item You Own From This Artist: The shirt with the clouds and lightning bolts (Not sold anymore)
Website: www.facebook.com/canaanrocks13

Submit your photo and reasons why YOU'RE a fan for a chance to be featured here!