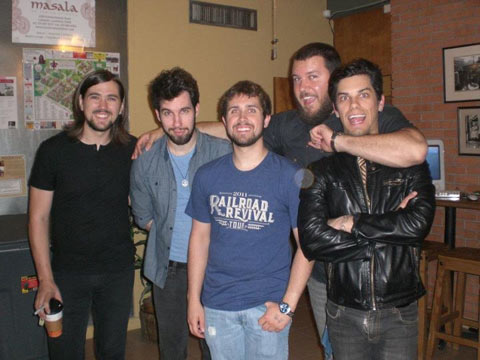 House of Heroes and Adam Wilson

Favorite Band/Artist: House of Heroes
Featured Fan: Adam Wilson
Location: Pineville, LA
When/Where Was The Above Photo Taken: July 2011. Cafe Chi Alpha. Lafayette,LA
What About This Artist's Music Speaks To You: Their music reminds me to always have fun in life no matter whats hardships it brings. Stand firm in what I believe in.
Favorite Album by This Artist: The End Is Not The End
Favorite Song by This Artist: "Journey Into Space, Pt.1"
Number of Times Seen This Artist Live: 1
Favorite Live Show Experience: At Cafe Chi Alpha. There was maybe 20 people at the show. It made the show a little more intimate, but still AWESOME!
Favorite Piece Of Merch/Item You Own From This Artist: "God Save The Foolish Kings" tshirt
Website: N/A

Submit your photo and reasons why YOU'RE a fan for a chance to be featured here!