SARA GROVES CHOSEN BY iTUNES FOR COVETED DISCOVERY DOWNLOAD
NEWS SOURCE: The M Collective
October 30, 2007

NASHVILLE, TN...10/30/07.... Singer/Songwriter Sara Groves is the latest artist to have one of her songs chosen as a DISCOVERY DOWNLOAD with iTunes. Just days before her new album, TELL ME WHAT YOU KNOW, hits the streets on November 6th, her single, "When The Saints" has been chosen to be a Discovery Download on the iTunes Store for the week before the project releases, starting October 30th, and will be listed under the Free downloads section on the iTunes homepage
On her new album, Tell Me What You Know, Groves explores what she has learned over the past two years, lessons on the value of long defeats, and the defiance of hope in the face of insurmountable odds. Since the 2005 release of her last project, Add to the Beauty, Groves has been questioning just how, exactly, she is called to do that. Sara explains, "I believe God invites us to add to the beauty of his plan, letting us participate in his redemptive work. But I found myself asking, 'How have I applied this idea?' I had groomed and groomed and groomed my personal faith, but to what end?"
Her answers came in a series of global conversations and experiences, from the flood-ravaged gulf of Louisiana, to the genocide memorials of Rwanda, to the testimonies of Southeast Asia sex trade survivors. These experiences showed the disparity between some of the American pursuits of comfort and wealth and the joy of joining the difficult work of social justice and engaging in the suffering of the afflicted. As Groves explains, such is the case with the song "When The Saints":
"'When the Saints' was inspired by the work of The International Justice Mission. Their work made me think about the people I have admired in history and made their kind of action seem more accessible. I used to read about amazing heroes like Harriet Tubman who secured her own freedom from slavery and then helped rescue many others through the Underground Railroad. I have always wondered how I would have responded in different times in history. Would I have opened my home to the Underground Railroad or given Anne Frank refuge? We think those stories are removed from us, but right now there are millions of slaves, millions of people hiding from their oppressors. I realized not too long ago, that I have not been the Good Samaritian. I have been the other guys, who walk on the far side of the road. It is my heart's desire to change that, and 'When the Saints' is a celebration of people who were placed by God for certain times and events, and a prayer that I will have the strength to show up for my time. "
# # #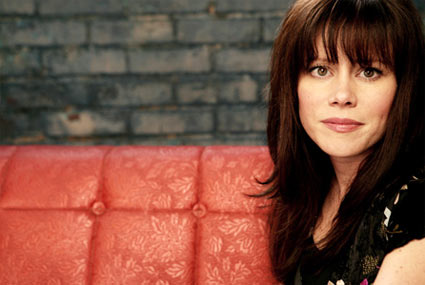 [2021]
Jan. | Feb. | March | April | May | June | July | Aug. | Sept. | Oct. | Nov. | Dec.
[2020]
Jan. | Feb. | March | April | May | June | July | Aug. | Sept. | Oct. | Nov. | Dec.
[2001 - 2020]
Visit our complete MUSIC NEWS ARCHIVE