AFTERS GUITARIST FENDS OFF SWARM OF BEES... AND KEEPS ON PLAYING
NEWS SOURCE: The Afters; Jesusfreakhideout.com
October 29, 2007

It's common knowledge that life on the road is tough... just ask The Afters guitarist Brad Wigg. Frontman for the band, Josh Havens recently reported on Brad's on-stage encounter with a swarm of bees.
"We were playing a show in Sherman, TX over the weekend when Brad was attacked by killer bees on stage... he swatted, kicked, slung his guitar and insulted the bees in what was a valiant fight against the aggressive swarm. As anyone knows, one man and one guitar are no match for dozens of bees... especially when the rest of us were just playing the songs, oblivious to Brad's struggle. He ended up falling on his back and escaping from the bees in what can only be described as a true moment of Rock'n Roll heroism... and someone captured it on film. Brad, we salute you for surviving the bee attack without incurring a single sting.
Thank you to everyone who has given encouraging feedback on the new songs! We cannot wait for you to hear the entire album. It was mastered today and I promise, we will be putting a new song up very soon. We're planning our Winter tour right now for February and March. It looks like we'll finally be heading out west again and bringing along some great bands... more about that later.
We'll post more soon.....and watch out for killer bees!
Josh"
Silliness aside, keep an eye out for the band's sophomore release Never Going Back To OK, which will hit your local store shelves on February 26, 2008 on INO Records.
For more information about The Afters, visit our Artists Database.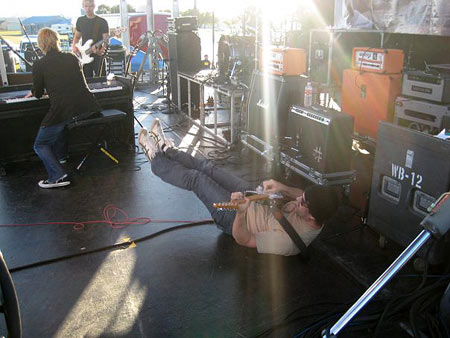 [2021]
Jan. | Feb. | March | April | May | June | July | Aug. | Sept. | Oct. | Nov. | Dec.
[2020]
Jan. | Feb. | March | April | May | June | July | Aug. | Sept. | Oct. | Nov. | Dec.
[2001 - 2020]
Visit our complete MUSIC NEWS ARCHIVE