INHABITED LINKS UP WITH INDIE LABEL 7 SPIN MUSIC
Band Returns to the Music Scene with Sophomore Release in Feb.
NEWS SOURCE: Savvy Media
October 31, 2007

(NASHVILLE, Tenn.) Oct. 31, 2007—Female-fronted rock band Inhabited finds a new home at burgeoning indie label 7 Spin Music. The group is putting the finishing touches on its sophomore release, LOVE, releasing through 7 Spin Music on Feb. 26.
Comprising Sara Acker (vocals), Marcus Acker (guitar), and Charlie Harper (drums), Houston-based Inhabited exploded onto the Christian music scene four years ago with its independent project Innerview. The band set a whole new standard for indie success, claiming a Top 20 Christian Hit Radio single with "Rescue Me." The song also made Christian Rock radio's Top 10.
Inhabited released its debut label project, The Revolution, with Fervent Records in 2005. Revolution earned rave reviews from media who hailed frontwoman Sara's strong vocals, formidable stage presence and genuine heart for youth. The group steadily grew its loyal fan base, while touring alongside popular artists Todd Agnew, Starfield, By The Tree and Jonah33. Today Inhabited continues to re-invent itself, always on the cutting edge of sound and style.
Peter Khosla, president of 7 Spin Music comments, "The quality that most impressed me about Inhabited is its sincere desire to impact youth. The group is also musically talented and works extremely hard at its ministry. The band is an excellent fit with what we're trying to cultivate here at 7 Spin."
"We are so happy to be at 7 Spin and are excited that they aren't afraid to be bold and think outside the box," says Sara Acker. "They have already been a blessing, and I'm stoked we're teaming together to get LOVE to the masses!"
Inhabited's national sophomore project, LOVE, will be produced by industry veteran Monroe Jones (Jackson Browne, David Crosby, Third Day). In stores Feb. 26, the album's first radio single, "Hush," written and produced by Marcus and Sara Acker, is currently at No. 22 on Christian Hit Radio. Additional details on the record are forthcoming.
Inhabited is also on the SHOUTfest tour this fall. For an updated tour itinerary or for more information on the band, visit: www.inhabitedtheband.com.
Based out of Valparaiso, Ind., 7 Spin Music was formed in 2004 by Peter Khosla. The independent label is part of a family of music companies that includes booking, management, and publishing. Other 7 Spin Music artists include Red Umbrella, All Star United, Hello Kelly, Sevenglory, and Heath McNease. 7 Spin Music releases are distributed by Provident-Integrity Distribution and general market distribution is through Sony-BMG. For more information, visit www.7spinmusic.com
# # #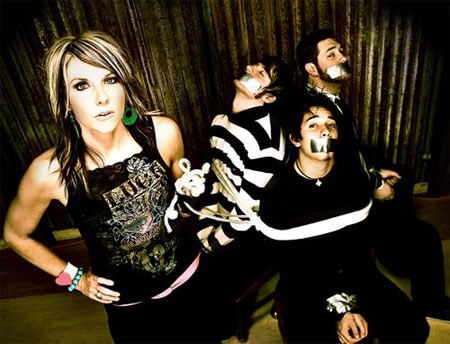 [2021]
Jan. | Feb. | March | April | May | June | July | Aug. | Sept. | Oct. | Nov. | Dec.
[2020]
Jan. | Feb. | March | April | May | June | July | Aug. | Sept. | Oct. | Nov. | Dec.
[2001 - 2020]
Visit our complete MUSIC NEWS ARCHIVE