ROCKETOWN HOSTS ANNUAL FUNDRAISER ON NOVEMBER 13
Event to Honor Award Winning Artist Ronnie Milsap
NEWS SOURCE: Provident Music Group
November 1, 2007

(Nashville, TN) Nov. 1, 2007 -- Rocketown will present its Legend Award to GRAMMY winning artist Ronnie Milsap at its yearly fundraiser on Tuesday, Nov. 13. The evening's theme is, "What a Difference You've Made In My Life." The festivities begin at 6 p.m. with a progressive dinner followed by performances by Milsap, and Rocketown's founder, Michael W. Smith. The event is open to the public and reservations are required. Tickets can be purchased by contacting Audra Davis at 615-843-4001 x 215.
Charles Dorris, Sr. Vice President, William Morris Agency, and Chairman of Rocketown's Board of Directors, shares, "Rocketown chose to honor Ronnie with the Legends Award for both his celebrated music career and his example to young people. His impact on the music world is vast but it's his life of overcoming struggle, leading to extraordinary success, that is the message that Rocketown hopes will resonate with young people."
Ronnie Milsap ranks as the pre-eminent country soul singer. Signing with RCA Records in 1973, Milsap's myriad of influences blended into a cosmopolitan style of country music that has helped revolutionize Nashville. Now, over thirty years later his track record speaks loud and clear: 40 # 1 hits, More than 25 million records sold, seven GRAMMY Awards, four Academy of Country Music Awards, and eight Country Music Association Awards. Together, they underscore Milsap's position as one of the best-loved and most enduring artists in country music history.
Born into dire poverty in the Appalachian town of Robbinsville, North Carolina, Milsap's mother viewed her newborn's blindness as punishment from God. Shortly after his first birthday, he was cast off and given to his grandmother to raise. At age six, he was sent to the Governor Moorehead State School for the Blind in Raleigh, and the young boy faced barbaric disciplinary treatment all through his grade school and high school years. All along, the sightless child took refuge in music and the radio.
Similarly, many of the teens at Rocketown struggle with dire circumstances but find refuge at Rocketown. Unique programming in music, art and extreme sports draws teens who might otherwise fall through the cracks. Milsap's song, "What A Difference You've Made In My Life," speaks poignantly about the difference that one person can make in a person's life. Rocketown strives to make that difference daily by providing a home away from home for teens and proceeds garnered from the evening's fundraiser will go to support Rocketown's ministry outreach.
Hosted by Michael W. Smith, the program will offer an action-packed glimpse into the world of today's teen with live bands, dance, and skateboarding performances. In addition, outgoing board members Dr. Priscilla Partridge de Garcia and Bill Hawkins, will be recognized for their long-term support of Rocketown.
Rocketown opened its doors at 401 6th Ave South in Nashville, Tennessee in January of 2003. Its 40,000 square foot youth outreach facility is equipped with a skate park, music venue and a coffee shop. With more than 100,000 visits each year, Rocketown makes a difference in the lives of young people through cutting edge programs and adults who care.
# # #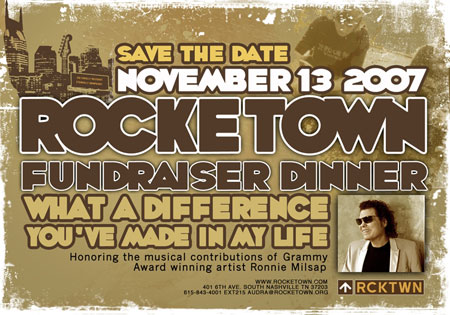 [2021]
Jan. | Feb. | March | April | May | June | July | Aug. | Sept. | Oct. | Nov. | Dec.
[2020]
Jan. | Feb. | March | April | May | June | July | Aug. | Sept. | Oct. | Nov. | Dec.
[2001 - 2020]
Visit our complete MUSIC NEWS ARCHIVE