SUPERCHICK GOES GREEN WITH NBC UNIVERSAL
Hit Song "Hero" Featured in New PSA
NEWS SOURCE: Savvy Media
November 2, 2007

(NASHVILLE, Tenn.) Nov. 2, 2007 – Superchick's hit song "Hero" is currently featured in a new public service announcement (PSA) by NBC Universal. The "Green Is Universal" PSA announces the company's more than 150 hours of environmentally themed content that will encompass all of NBC Universal's divisions across multiple platforms from November 4-10, including NBC, MSNBC, Bravo and CNBC among others.
In addition to appearing on the NBC Universal television platforms, Universal Pictures will run the "Green Is Universal" PSA as post-roll on its online trailers during the programming week and as ads in theater lobbies.
The "Green Is Universal" PSA pairs major entertainment figures with Superchick's song including Alec Baldwin ("30 Rock"), John Krasinski ("The Office"), Robert Redford (The Sundance Channel), Meredith Vieira ("Today"), Howie Mandel ("Deal Or No Deal") and Tim Gunn (Bravo).
The PSA can be viewed online at www.inpop.com/video/Superchick/SuperchickGreenPSAtv.mov. The "Green Is Universal" website will be live soon at www.GreenIsUniversal.com.
Chicago-based Superchick comprises sisters Tricia Brock (vocals) and Melissa Brock (vocals, guitar), Matt Dally (bass, vocals), Dave Ghazarian (lead guitar, vocals), Brandon Estelle (drums, vocals), and Max Hsu (keyboards/DJ). With five projects to date, Superchick has sold upwards of 700,000 albums, and the group's music has been heard in more than 60 different films and television shows. With literally hundreds of live performances on its resume, Superchick has developed a well-deserved reputation as an incandescent and charismatic pop/rock phenomenon. The group is currently working on a new studio album to release spring 2008. For more information, visit: www.superchickonline.com.
Founded in 1999 by newsboys frontman Peter Furler, artist manager Wes Campbell and Inpop President Dale Bray, Inpop Records is home to a variety of artists including newsboys, Superchick, Shane & Shane and Mat Kearney, among others. For more information, visit www.inpop.com.
# # #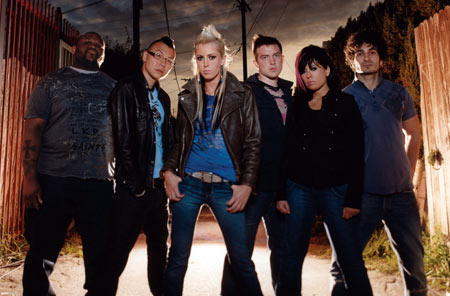 [2021]
Jan. | Feb. | March | April | May | June | July | Aug. | Sept. | Oct. | Nov. | Dec.
[2020]
Jan. | Feb. | March | April | May | June | July | Aug. | Sept. | Oct. | Nov. | Dec.
[2001 - 2020]
Visit our complete MUSIC NEWS ARCHIVE