AVALON WELCOMES NEW MEMBER JEREMI RICHARDSON
Group Pays Tribute to Christian Classics on Ninth Studio Album In Stores Feb. 26
NEWS SOURCE: Savvy Media
November 6, 2007

(NASHVILLE, Tenn.)—Nov. 6, 2007—Dynamic vocal foursome Avalon welcomes new member Jeremi Richardson to the group. Richardson joins the award-winning artist in time for the release of its ninth studio album, Another Time, Another Place: Timeless Christian Classics, on Feb. 26.
Originally from Cleveland, Tenn., Richardson and his wife Amy currently reside in Orlando, Fla. where he is a member of the Disney groups Voices of Liberty and Four for a Dollar. He has toured singing and leading worship all over the United States, Jamaica, Bermuda and Israel. His voice can be heard on numerous recordings by Tribe Studios, Jeff Arthur Productions, WiseGuys Productions, Walt Disney Studios, Word Music, Brentwood-Benson, SpiritSound Music, and Integrity Music.
"I have been a longtime fan of Avalon," says Richardson. "I first saw the group on tour with Crystal Lewis my sophomore year of college. It was that same evening I made the decision to pursue a singing career. I am so honored to be part of the group and look forward to what the future holds for Avalon."
And in the very near future Avalon will release its latest music offering, Another Time, Another Place: Timeless Christian Classics, a collection of contemporary Christian music's most beloved songs. Paying tribute to CCM legends including Amy Grant, Michael W. Smith, Twila Paris, Steven Curtis Chapman, and Crystal Lewis, among others, the record celebrates those songs which not only have influenced the genre itself but also Avalon and its more than decade-long career.
"These are songs that first made us want to do what we're doing today," says Greg Long of Avalon. "So many of these artists impacted us in a memorable way from before we began performing as a group until today."
Melissa remembers singing "The Basics of Life" (4Him) in high school and taking her first solo, "Friend of a Wounded Heart" (Wayne Watson), while Janna recalls Avalon opening for Crystal Lewis on tour, when "People Get Ready" dominated radio and Lewis was the Gospel Music Association's Female Vocalist of the Year.
"It was amazing, having the chance to spend time with so many of these seasoned artists so early in our career," says Janna. "We are truly grateful to them for helping to make Avalon what it is. We hope this record shows our gratitude."
Beginning Nov. 13, a three-song preview EP featuring "Another Time, Another Place," "God Is In Control" and "Thy Word" will be available on iTunes and other digital music outlets. The album's single, "Another Time, Another Place," went for ads at Christian Adult Contemporary radio on Nov. 2. The group is also planning a major tour to launch spring 2008. Additional details are forthcoming.
Formed in 1996, Avalon set a new standard for modern spiritual music. In review of its 2006 project, Faith: A Hymns Collection, All Music Guide lauded the group's "vocal efficiency and personalized stylings that place Avalon among the elite singing groups in contemporary Christian circles." To date, the quartet has sold more than three million albums, charted 20 No. 1 singles, and won an American Music Award plus numerous Dove Awards such as the 1999 Pop/Contemporary Song of the Year for "Testify to Love." That song, a listener favorite, has also been specially re-recorded for Another Time, Another Place. For more information, visit www.avalonlive.com.
About EMI CMG Label Group:
Brentwood, Tennessee-based EMI CMG Label Group is comprised of Sparrow Records, Forefront Records, and Credential Recordings, in addition to providing A&R and marketing support for sixstepsrecords via a joint venture and licensing partnership. Balancing freedom, discipline, creativity, profitability and ministry, EMI CMG Label Group strives for excellence in artist development. The Label Group is a division of EMI Christian Music Group. For further information, please visit www.emicmg.com.
# # #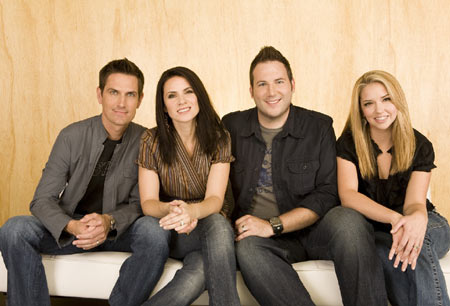 [2021]
Jan. | Feb. | March | April | May | June | July | Aug. | Sept. | Oct. | Nov. | Dec.
[2020]
Jan. | Feb. | March | April | May | June | July | Aug. | Sept. | Oct. | Nov. | Dec.
[2001 - 2020]
Visit our complete MUSIC NEWS ARCHIVE