JAKE SMITH GOES WEST TO PROMOTE NEW ALBUM, REAL
Singer/Songwriter Finishes Fall Media Tour In Concert With Better Than Ezra
NEWS SOURCE: Savvy Media
November 6, 2007

(Nashville, Tenn.) Nov. 6, 2007—Music newcomer Jake Smith recently took his signature brand of New Orleans-style pop to the West Coast, where he promoted his debut album Real. Smith finished off the mini-media tour with a home state concert, opening for Better Than Ezra.
The promotional trip included radio interviews, retail stops, and media meet & greets among other events. Smith played "Club R&R" for staff at the Los Angeles office. He also visited with Worship Leader Magazine, K-LIFE radio, and the EMF Broadcasting studios. His final West Coast tour stop was the Trinity Broadcasting Network in Tustin, CA, where Smith hosted JCTV's "XVZ" ("Extreme Video Zone") program.
Cyndee Maxwell, editorial director and associate publisher for Radio & Records comments, "Jake played for our staff in the lunch room (and was a good sport about the soda machine in the background). His performance was great, everyone was captivated by the music, and he was warm, engaging and funny with the staff. Personally I love his CD and think there are many opportunities ahead for his music and influence."
Smith returned to Louisiana Oct. 19 for a show with Better Than Ezra at The Varsity Theatre in Baton Rouge, La. The concert hosted a sell-out crowd of 800 people, and Jake was asked to join the band again at The House of Blues in New Orleans, La. mid-December.
"I have loved being on the road and meeting so many amazing people so early on in my career," Smith says. "I look forward to growing these relationships and making more in the years ahead."
Smith's July 31, 2007 debut release, Real, offers soulful, groove-based pop that blends seamlessly together to create a sound reflective of New Orleans' richness and eclecticism. Drawing from recent trauma in Smith's life, this very personal record is infused with the genuine hope and optimism that surrounds Smith himself. The album is receiving rave reviews from critics, who are calling Smith one of the year's best new artists. For more information on Real, and a list of tour dates, visit jakesmithmusic.com or myspace.com/jakesmithmusic.
Grammy Award winner Michael W. Smith and former Reunion Records A&R Chief Don Donahue started Rocketown Records in 1996 with the goal of building a label around a foundation of great songs and a family atmosphere.
# # #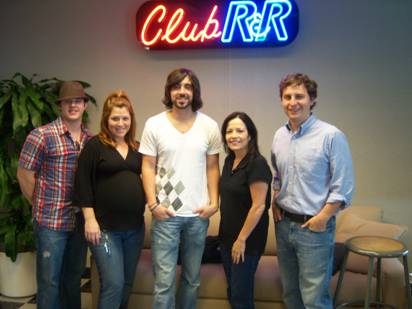 CAPTION: Jake Smith performs a short acoustic set for "Club R&R" at the Radio & Records Los Angeles office. Pictured left to right are Beau St. Pierre, Jake's trumpet player; Kristy Scott, Radio & Records sales manager; Jake Smith; Cyndee Maxwell, editorial director and associate publisher for Radio & Records; and John Andrade, manager of marketing and A&R for Rocketown Records.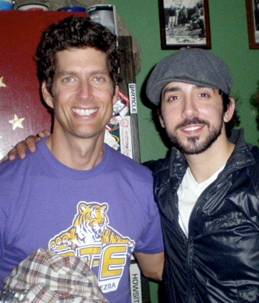 CAPTION: Jake Smith greets Better Than Ezra frontman Kevin Griffin at the Oct. 19 concert at Varsity Theatre in Baton Rouge, La.

[2021]
Jan. | Feb. | March | April | May | June | July | Aug. | Sept. | Oct. | Nov. | Dec.
[2020]
Jan. | Feb. | March | April | May | June | July | Aug. | Sept. | Oct. | Nov. | Dec.
[2001 - 2020]
Visit our complete MUSIC NEWS ARCHIVE