WITH OVER A QUARTER A MILLION IN SALES, SKILLET NABS FOUR CONSECUTIVE No. 1 SINGLES; TO RELEASE CD/DVD DELUXE EDITION THIS FALL, HIT WINTER JAM TOUR IN JANUARY
NEWS SOURCE: The M Collective
November 6, 2007

** In follow-up to two No. 1 singles, "Rebirthing" and "The Last Night," Lava/Atlantic/Ardent/INO band SKILLET is now celebrating their third and fourth consecutive #1 singles as "The Older I Get" takes over the top spot on Christian CHR (R&R/CRW) and "Comatose" places No. 1 for the second week in a row on Rock (R&R and CRW) radio this week.
** With COMATOSE selling a fast and furious quarter of a million units since releasing last fall, the project continues to top all previous sales records. To offer fans something special to show their appreciation, Skillet will release the COMATOSE CD/DVD Deluxe edition on December 26, 2007.
**Along with new cover art (attached) and the full COMATOSE CD, the deluxe edition will also feature:
. 1 BRAND NEW studio track, "Live Free"
. 5 acoustic tracks:
- "Rebirthing"
- "Yours to Hold"
- "The Older I Get"
- "Whispers In The Dark"

. 3 music videos ("Rebirthing", "Whispers in the Dark", "Looking for Angels")
. Behind the scenes video - making of the record
. FREE Wallpaper
. FREE Ringtone -"Falling Inside the Black"

**Skillet is just wrapped up fall tour dates opening for Breaking Benjamin and Three Days Grace, and after the first of the year will hit the road again as part of the Winter Jam tour, hitting the following cities:
Winter Jam Tour Schedule: (All dates subject to change)
January 10 Johnson City, TN Freedom Hall
January 11 Chattanooga, TN McKenzie Arena
January 12 Roanoke, VA Roanoke Civic Center
January 13 Charlotte, NC Bobcat Arena
January 18 Tampa, FL Sun Dome Arena
January 19 Orlando, FL UCF Arena
January 24 Normal, IL Redbird Arena
January 25 Columbus, OH Schottestein Center
January 26 Cincinnati, OH Cincinnati Gardens
January 27 St. Charles, MO Family Arena
January 31 Evansville, IN Roberts Stadium
February 1 Little Rock, AR Alltell Arena
February 2 Birmingham, AL BJCC Arena
February 7 Augusta, GA James Brown Arena
February 8 Jacksonville, FL Memorial Coliseum
February 9 Mobile, AL The Mitchell Center
February 10 Tupelo, MS Bancorp South Center
February 15 Greenville, SC The Bi-Lo Center
February 16 Greensboro, NC Greensboro Coliseum
February 17 Norfolk, VA Constant Convocation Center
February 22 Columbia, SC The Colonial Center
February 23 Jackson, MS MS Coliseum
February 24 Southaven, MS DeSoto Civic Center
February 28 Oklahoma City, OK The Ford Center
February 29 Tulsa, OK Mabee Center
March 1 Wichita, KS Charles Koch Arena
March 2 Colorado Springs, CO World Arena
March 6 Lexington, KY Rupp Arena
March 7 Ft. Wayne, IN Allen County Memorial Coliseum
March 8 Knoxville, TN Thompson Boling Arena
March 9 E. Lansing, MI The Breslin Center
March 13 Huntington, WV Big Sandy Superstore Arena
March 14 Fayetteville, NC Crown Coliseum
March 15 Atlanta, GA Phillips Arena
March 16 Nashville, TN The Sommet Center
Skillet's explosive 2006 Lava/Atlantic/Ardent/INO Records release, Comatose follows 2004's Collide, which launched the group into the public eye and garnered the band a prestigious Grammy Award nomination. A critical fave, Comatose has become their best-selling project to date, doubling the sales of Collide in half the time. In follow up to packed out club shows on their own as well as with Flyleaf in the spring, and performances before summer festival crowds, this fall Skillet opened for mainstream rockers Breaking Benjamin and Three Days Grace In the process of becoming one of the hardest working, most rocking, and broadly appealing acts of its generation, radio welcomed Comatose with open arms, as the first single, "Rebirthing" spent seven-weeks at No.1 on Christian Rock. Their second single, "The Last Night," also took the top spot, this time at both Rock and CHR (CRW/R&R), while their latest single, "The Older I Get" (CHR/Rock) has become their third consecutive No. 1 single.
# # #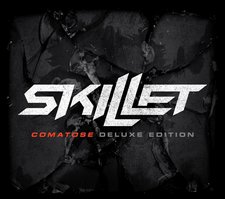 [2021]
Jan. | Feb. | March | April | May | June | July | Aug. | Sept. | Oct. | Nov. | Dec.
[2020]
Jan. | Feb. | March | April | May | June | July | Aug. | Sept. | Oct. | Nov. | Dec.
[2001 - 2020]
Visit our complete MUSIC NEWS ARCHIVE