PROJECT 86 BAND UPDATE: A CHRISTMAS SONG IS COMING??
NEWS SOURCE: Project 86; Jesusfreakhideout.com
November 13, 2007

Ever listen to Project 86 and wonder, "Man, what would it be like if these guys recorded a Christmas song?!" Believe it or not, this has crossed our minds (no joke!), and apparently it's crossed the minds of the California boys themselves. In a recent blog, frontman Andrew Schwab updates fans on the latest with the band, and announces that a holiday tune is indeed in the works...
Show in Minneapolis was off the charts, as usual. Home away from home that is our new home. See you again in six months. This week I am home again finding time to not be busy and insane.

But to be perfectly honest I can't remember a more enjoyably prolific chapter as as artist. (Notice I didn't use the word "musician." I picture a "musician" as someone who is attempting to avoid responsibility at all costs, eeking out an existence off other people's couches, never adopting the concept of adulthood or becoming a productive member of society.) By "prolific" I mean that we are dropping this EP (which was super fun to make) AND we are recording a CHRISTMAS SONG this Thursday. Yes, I said CHRISTMAS SONG. SCARED? You should be. Then again, if you don't have faith by now maybe you never will. GET IT? FAITH? CHRISTMAS? HA!

The fires are finally out around here and I can open my window again. Maybe I will write a little poem on how it feels to see flames out your bedroom window during a Steelers game and having to miss the entire 3rd quarter watching the news, wondering if you are going to be evacuated, thinking about which possessions of yours you would not want to burn if you could only choose ten. Come to think of it, visit my website here and submit a list of the ten things you would take with you if everything else was going to burn. Rules? They can only be inanimate objects (i.e. not living...no pets, relatives, live-in maids, etc.) I will post mine, you post yours. I will read them and publish them on the site.
For a new video update from the band, with even more details, check out Project 86 Vodcast 8!
For more information about Project 86, visit our Artists Database.
# # #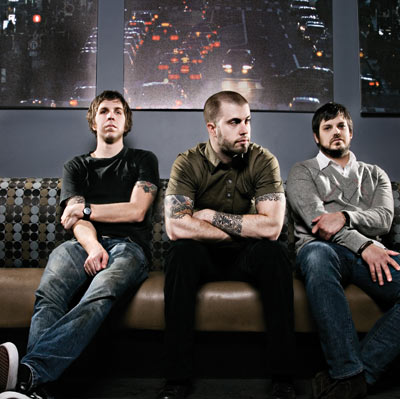 [2022]
Jan. | Feb. | March | April | May | June | July | Aug. | Sept. | Oct. | Nov. | Dec.
[2021]
Jan. | Feb. | March | April | May | June | July | Aug. | Sept. | Oct. | Nov. | Dec.
[2001 - 2022]
Visit our complete MUSIC NEWS ARCHIVE