SANDI PATTY APPEARS ON ABC'S HEART-WARMING TV SERIES "EXTREME MAKEOVER: HOME EDITION" IN A TWO HOUR SPECIAL AIRING FEBRUARY 17TH
NEW ALBUM SCHEDULED FOR SPRING RELEASE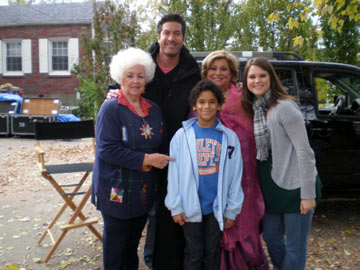 NEWS SOURCE: The M Collective
February 8, 2008

NASHVILLE, TN…February 8, 2008…One of Christian Music's most celebrated artists, INO Records' Sandi Patty will make a guest television appearance on ABC's heart-warming hit series "Extreme Makeover: Home Edition" airing Sunday, February 17th at 8PM EST.
The two-hour special, shot in Louisville, KY on November 9th, shows the cast and hundreds of volunteers renovating a home for the Hughes family who has a blind and disabled son, Patrick that has overcome multiple challenges to achieve his goals as a musician.
During the demolition part of the broadcast, Patty sings "I Hear A Song" while some of the cast members play instruments. Because Patrick is a musical prodigy (playing piano since he was nine months old), EMHE asked Patty to perform using her wide vocal range coinciding with the demolition to visually display a mini-symphony, so to speak.
"It was such a joy to be a part of Extreme Makeover: Home Edition and to play a small part of a life changing experience for the Hughes family," says Patty. "They are truly a remarkable family and Patrick Hughes is an amazing young man. I have watched the show since its first week on the air over five years ago and I love the hope that it gives families across the country."
In addition to her television appearance and touring with the Women of Faith Conferences, Patty will release her 30th recording in the spring, titled Songs For The Journey. The album will feature a duet with Shelia Walsh and another duet with husband, Don Peslis. Full details regarding Songs For The Journey to be announced.
The episode will be available on http://www.abc.com the day after airing on the network for fans to watch online. For more information on Sandi Patty, please visit, http://www.sandipatty.com , or http://www.myspace.com/sandipatty .
# # #