NATE HUSS IS "DOWN TO LOVE" ON VALENTINE'S DAY—WITH NEW BRIDE, NEW RADIO SINGLE, AND NEW 'FREE' MUSIC DOWNLOAD!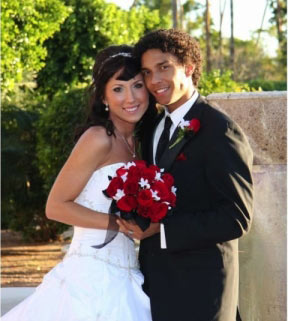 NEWS SOURCE: Morningstar PR
February 13, 2008
(Nashville, Tennessee) –February 13, 2008 – Slanted artist NATE HUSS has much to celebrate this Valentine's Day –with a new bride, new management, and a new single, "Down To Love," just hitting at CHR.
Nate married his college sweetheart, Emily Marie Hiiva, on November 24th in his hometown of Phoenix, Arizona. The happy couple met during their freshman year at Northern Arizona University. Now graduated and holding a Bachelor's degree in Psychology, Emily has also permanently captured the heart of one of Christian music's most eligible young bachelors! Nate recalls the proposal was a traditionally romantic one—even if the location was a 'little out-of-the way!'
"Emily has a mountain that's been her favorite place since junior high school to just go everyday and think and pray. I flew back home to Phoenix after playing some concerts without her knowing I was coming. I surprised her by meeting her at the mountain—I had scattered rose petals up the path and I was waiting at the top—dressed in my best black suit with roses and the ring," Nate recalls.
Also new on Nate's '08 career agenda is his representation by Derek Bruner Management.
Bruner, whose background includes road management, radio promotion and A&R with Slanted Records, formed his own management company in June of 2007. Nate joins Jump5, Sammy Ward, and Guest as priority clients for the Franklin, Tennessee based firm. Notes Bruner: "We are making a major push for good visibility slots for Nate on this year's festival circuit—we've confirmed Atlanta Fest and several other major stages, with a full announcement to come."
To celebrate Valentine's Day—Nate is offering his supporters a "free" download of the new "Down To Love" single from his debut album on Slanted, Here With Me. Beginning at midnight tonight, it can be accessed for Valentine's Day download through www.myspace.com/natehuss