COMPASSIONART SONGWRITERS BEGIN RECORDING SONGS AT ABBEY ROAD TO BENEFIT THE WORLD'S POOREST OF THE POOR
Michael W. Smith, Israel Houghton Record Compassionart Song
"So Great" for April's WOW Hits 1 Release
Chris Tomlin Joins Songwriters for Recording
NEWS SOURCE: Hoganson Media
February 18, 2008

(Littlehampton, England) February 18, 2008 – Compassionart, a charity based in Littlehampton, England and dedicated to seeing works of art generate income for the poorest of the poor, has reserved the famous Abbey Road Studios in London, England this week to begin recording songs written collectively at a retreat in January by a team of internationally recognized songwriters. Several of these songwriters are re-grouping in the UK today for the recording, including: Paul Baloche, Stu G (Delirious?), Israel Houghton, Graham Kendrick, Matt Redman, Martin Smith (Delirious?) and Michael W. Smith. The resulting music will be for a Compassionart studio album being planned for a late fall release.
Although not able to attend last month's retreat, 2006/2007 Gospel Music Association Artist and Male Vocalist of the Year Chris Tomlin contributed to one of the songs written at the retreat and will be joining the others at Abbey Road to record.
"I know that Compassionart is in the heart of God," says Tomlin. "I am so honored and thrilled to be a part of it. What an amazing gathering of people and songwriters."
While all of the Compassionart songwriters will not be able to gather in London for this recording session, future recording opportunities are being planned now. Additionally, Michael W. Smith, who has called the recent Compassionart retreat "one of the most significant weeks of his life," and 2008 GRAMMY winner, Israel Houghton, have already recorded the song, "So Great." The song will become the first from the Compassionart retreat to be released to the public in April and on the popular WOW Hits 1 brand.
"There are two amazing forces that exist in the world: Compassion for those in need and Art that helps us see beyond ourselves," notes Martin Smith, Delirious? lead vocalist and Compassionart writer/founder. "What could happen if you brought the two together? What could happen if you gathered some of the top songwriters in our scene to bring their art to the table for the sole reason of raising money for the poorest of the poor? Well I can tell you, it was amazing! 'So Great' is taken from the forthcoming Compassionart record and I hope it gives you a taste of what's to come."
Compassionart hosted an unprecedented gathering of award winning songwriters in Scotland, UK Jan 7 – 11, including the aforementioned songwriters and Steven Curtis Chapman, Tim Hughes, Andy Park and Darlene Zschech. Working together toward a common goal involving no personal gain, the songwriters set out to write 10-12 songs and, by the end of the retreat, had completed 22 new songs. Together these songwriters account for at least 42 million albums sold, 82 No. 1 songs, 10 GRAMMY Awards, 110 Dove Awards, two Stellar Awards, two American Music Awards, and 98 current CCLI Top 500 songs sung by millions in churches around the world.
In addition to the songwriters, the publishers, managers, copyright institutes and agents involved have all waived their rights and are donating their efforts on this project to Compassionart. The songs are to be given through Compassionart to the world not just to sing, but also to raise money for the relief of suffering around the planet. One half of the monies received over the songs' lifetimes will go to the songwriters' charity of choice, and the other 50% will go to a charitable project agreed upon by all the songwriters involved.
For more information on Compassionart, go to http://compassionart.co.uk/.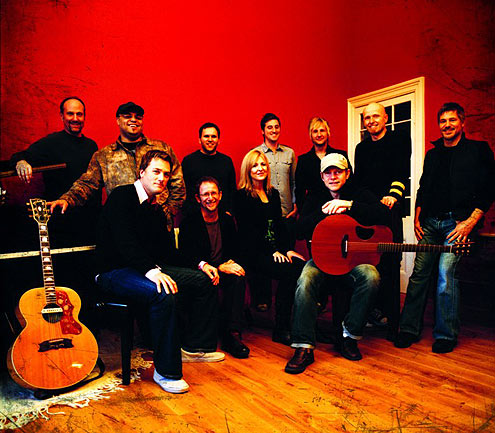 CAPTION: Compassionart songwriters are pictured (l-r) Standing - Andy Park, Israel Houghton, Matt Redman, Tim Hughes, Martin Smith, Stu G and Paul Baloche. Seated: Michael W. Smith, Graham Kendrick, Darlene Zschech and Steven Curtis Chapman.
# # #