Crabb Revival Signs With Daywind Records
NEWS SOURCE: Daywind Records
February 19, 2008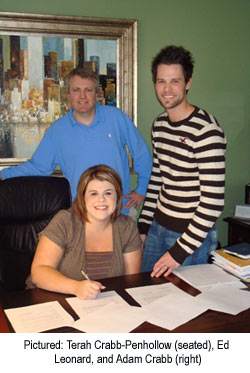 Hendersonville, TN (Feb. 19, 2008) - Daywind Records is pleased to announce the signing of a group with members already rich with success and poised for even higher heights in a new line up - Crabb Revival. Terah Crabb-Penhollow and Adam Crabb (Crabb Revival) met in Hendersonville, TN, recently to make the long-term relationship with Daywind official.
Crabb Revival consists of Terah Crabb-Penhollow (vocals) and Adam Crabb (vocals, harmonica) along with Zach Smith (vocals, lead guitar), Micah Schweinsberg (drums) and Jedidiah Richardson (bass guitar).
"Adam and I are so excited to be a part of Daywind Records again, but this time with our new group, Crabb Revival!" Terah stated. "We know God has great things in store, and together with the Daywind team, we will be able to accomplish all the things He has planned."
Daywind Records' president, Ed Leonard said, "We are so excited to welcome Crabb Revival to the Daywind family. Their heart for ministry and immense talent will be a blessing to so many in the coming years. What an opportunity for us to be involved with a young group so rich in tradition, yet with a fresh and vibrant sound, that will resound with Crabb fans and new listeners alike."
The debut album, Runaway Train, soon to be released nationwide, features songs written by Gerald Crabb, Adam Crabb, Zach Smith, Micah Schweinsburg, Jonny Lang, and others. Their current single from the new recording, "You Amaze Me," is making its way up the charts as so many Crabb songs have in the past.
Crabb Revival is booked by The Beckie Simmons Agency. Visit www.bsaworld.com for scheduling information.
Daywind Records is based in Hendersonville, TN, and is distributed worldwide through New Day Christian Distributors. In addition to Crabb Revival, Daywind is home to such great artists as Triumphant Quartet and Karen Peck and New River, among others.
For more information on Crabb Revival visit www.crabbrevival.net. For more information on Daywind Records, visit www.daywindrecords.com
- ### -