AFTER EDMUND CELEBRATES RECORD RELEASE WITH THE KING
Slanted Records band blasts onto the scene with debut album, touring and hit single
NEWS SOURCE: Hoganson Media
March 12, 2008

(NASHVILLE, TN) -- Slanted Records' new buzz band After Edmund, a modern pop/rock outfit from LaGrange, Georgia, celebrated the release of their debut album in true rock & roll style - at the home of the King of Rock & Roll himself, Elvis Presley. The band headed to Memphis for a VIP tour of Graceland and the various exhibits that pay tribute to the musical legend. While there, the group was invited to Elvis Radio (Sirius Channel 13) to guest dj for 30 minutes on the popular satellite radio network heard by millions of Elvis fans worldwide.
While in Memphis, After Edmund also made an appearance on WREG-TV's Live at 9 (CBS affiliate), which airs live from the historic Peabody Place. The band performed songs from the debut album before a live audience. The band has also been confirmed for upcoming appearances on The Harvest Show, Club 36, Gospel Music Channel's weekly series The Kitchen Sink and Live From Studio B, a 30-minute live concert series taped before a studio audience.
Hello debuted at #20 on the iTunes Christian Album chart, and the band's CHR single, "Like a Dream," has been the #1 New and Active song for two weeks in a row on the R&R CHR chart. After Edmund's rock single, "Fighting for Your Heart," which remains in the Top 30 on the rock chart, was recently featured on CCM Magazine's new music sampler.
Named after the Edmund character in C.S. Lewis' best-selling book series The Chronicles of Narnia, After Edmund has been making a name for themselves in the Atlanta region and beyond since 2001. With a wide range of influences, the band draws regular comparisons to such acts as Wilco, Keane and Foo Fighters, though their introspective lyrics tend to offer a more vertical slant.
"We grew up listening to all kinds of music—classical and classic rock to jazz and experimental stuff," notes bassist Matt McFadden. "We're kind of a melting pot, a unique fingerprint for Christian music, combining so many of our individual musical influences into one sound."
And those elements are exactly what attracted Slanted Records, the pop/rock/alternative indie label under the Spring Hill Music Group umbrella, which also recently launched the GRAMMY-nominated act DecembeRadio. The two bands share the same producer Scotty Wilbanks (Third Day, Overflow, Echoing Angels), who introduced After Edmund to the highly interested staff while recording demos for the band.
"Most of the guys play at least two to three different instruments," explains Wilbanks. "It's pretty cool when the drummer can pick up a guitar and start playing jazz standards and the lead guitar player goes over to the piano and starts playing some Joplin. The guys do a high-energy live show, and I wanted to do my best to capture that vibe in the studio...there's no programming on this record. Everything was played live in the studio by the band, kind of 'old school' for today's way of making records."
"If Adam has an idea for a bass part, he'll just go up and show me," adds McFadden. "If our guitarist Ben has an idea for piano, he'll go show Yates. Mitch, our lead singer and guitarist, actually notated piano parts for the song 'Like a Dream' in the middle of the night so he wouldn't forget them and then came into the studio the next morning to show us that part."
While the band is known for their highly-energetic performances and classically-trained members, it's the very heart of the band and their desire for true outreach and ministry that is catching audiences by surprise.
"Our ministry continues off stage since we enjoy talking to people and hearing what's on their mind," says drummer Adam Stanley. "Being a musician, life is really uncertain, but we've never missed a meal! We'll be happy to share that, plus a lot of people are looking for someone outside their families to help them feel validated. Just being a listening ear does wonders for their self-esteems, which is an important part in finding the Truth. Sure we're all sinners; but on the flipside, we're beautiful in God's eyes and people have to realize how much He loves them."
After Edmund spent the fall of 2007 on the Shoutfest Tour, performing for crowds as large as 20,000 people alongside such artists as Jars of Clay, Jeremy Camp, Pillar, Superchick, Bebo Norman, The Afters and others. They've continued to tour through the winter in support of their debut album, including a string of dates with the popular rock group Seventh Day Slumber.
Hello is distributed by Word Distribution/WEA with digital distribution by EMI-CMG Distribution.
For more information on After Edmund: www.afteredmund.com
###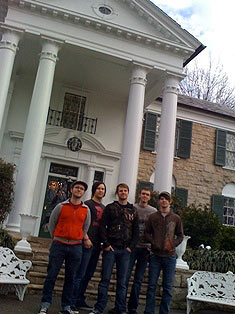 (Pictured at Graceland from L-R: After Edmund's Adam Stanley, Mitch Parks, Matt McFadden, Yates and Ben Hosey)