P.O.D. Listening Parties at Hard Rock Cafes TUESDAY March 18th
NEWS SOURCE: P.O.D.
March 17, 2008

This in from the P.O.D. fan list... "P.O.D. Listening Parties Nationwide Are This Tuesday March 18th! Hard Rock Concerts Begin Next Tuesday March 25th.
Attention Warriors in the Atlanta, Boston, Cleveland, Detroit, Houston, Indianapolis, Philadelphia and San Francisco areas, do you want to hear "When Angels & Serpents Dance" in it's ENTIRETY, and 2 weeks before anyone else will hear it? Head down to the Hard Rock Cafe in your area on Tuesday March 18th. You'll be set! All listening parties are happening at the same time so head down to your HRC @ 7:30pm. Things won't begin till about 8pm but this gives you time to get settled in. There is a suggested donation of $5 for the Musicians On Call organization. P.O.D. is really behind the support of this Charity in fact all the proceeds from their Hard Rock Cafe Venues tour dates will also be going to Musicians On Call.
Aside from getting to hear the album in its entirety, there will be a raffle, iChat with the band (live video AIM) so head down TOMORROW night and listen to the album with other Warriors in your area. After you hear the album please call 800-420-1886 and let us know what you thought about the album!
Please check over all the dates below, the Cali dates could not be switched and they are both 21+ we are so very sorry, and the band is working on an all ages event for so cal. You should be able to purchase tickets now for all shows except Denver which is only doing Door Sales. Be sure to grab up your tickets NOW, these are going to be very small very intimate shows. Most HRC Venues are 200-300 CAP!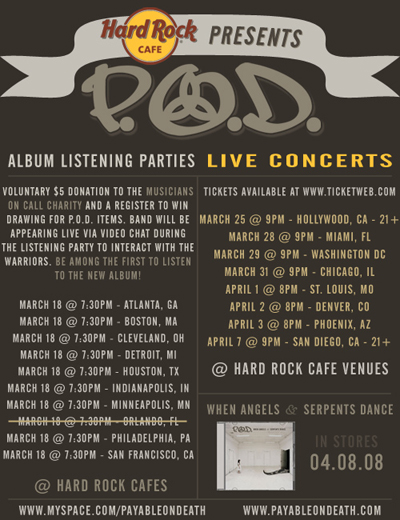 Orlando Listening Party Cancelled / There Will Be A Show The Following Week Though
Hard Rock Cafe in Orlando decided to cancel the WA&SD Listening Party because of many Spring Break events taking place that week. But don't be upset there is a P.O.D. show in Orlando the following week as part of the WWE events! Details listed below!"
Extra Appearances You Should Check Out...
March 27th
6th Annual THQ Superstar Challenge (THQ/WWE Event)
House of Blues Orlando
1490 E. Buena Vista Dr.
Lake Buena Vista, FL 32830
You can get your tickets here Ticket Master HOB
April 8th
P.O.D. on The Tonight Show w/ Jay Leno
on WA&SD Release Day
April 9th
In Store @ Best Buy
Special performance & Signing
7 p.m.
Best Buy
149 Fletcher Pkwy
El Cajon, CA 92020