FEEDBACK CONFERENCE EXPANDS TO TWO EVENTS FOR 2008 AND REVEALS LINE-UP OF INDUSTRY VIPS
NEWS SOURCE: Springboard Entertainment
April 15, 2008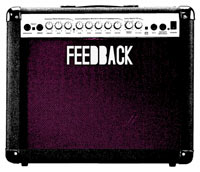 Franklin, TN (April 15, 2008) – Building on the success of its inaugural event in 2007, the Feedback Conference is pleased to announce its expansion to two events in 2008, featuring an unprecedented line up of speakers, presenters and performers at both.
Feedback will be returning to Lake Junaluksa Conference and Retreat Center in Asheville, NC May 22-25 for the first of its 2008 events and will branch out to Camp Copass Conference and Retreat Center just outside Dallas, TX for its second conference August 21-24.
With the goal of equipping artists to be effective in their mission, Feedback boasts a line-up of industry veterans who will cover all aspects of being an artist; from technique and artistry to faith and ministry. Speakers and presenters for the conference include Charlie Peacock (speaker, author, songwriter, producer), Shane Claiborne (speaker, advocate), Ryan Dobson (speaker, author), Tom Jackson (performance consultant for Taylor Swift, Jars of Clay), Jan Smith (vocal coach for Usher, Rob Thomas), Mark Stuart (speaker, songwriter, former lead singer of Audio Adrenaline), Chris Seay (speaker, author, pastor) and Shaun Groves (artist, advocate, songwriter), as well as a plethora of record label executives, marketing gurus and music industry experts. Artists include Stephanie Smith, Sleeping At Last and The Wedding.
"We are extremely excited about the 2008 Conferences," says Terry Weaver, Feedback co-founder. "Last year we saw nearly 300 attend our very first event and we were blown away by the response, so we added a second conference this year in order to meet the needs of even more artists. Through Feedback we feel we are providing attendees with a well-rounded view of what it is to be an artist of faith. It's very important that we not only present resources for the technical aspect of performing, songwriting and promoting music but we also take it a step further to give artists a chance to pause, to worship together and to renew their calling."
More than just four days of seminars and teaching, Feedback also allows attendees the opportunity to showcase their talents and receive creative analysis from a panel of industry experts. While not the main focus of the event, showcase winners will be chosen, with prizes including a Larrivee Guitar, a slot on a national tour, album production, cd duplication services, a Daisy Rock 'Girl that Rocks' Award, radio promotion services, graphic design and much more.
Kory Wheeler, frontman for This is Luke, the 2007 Showcase winner, explains how the conference has effected the band's ministry over the past year: "Feedback was amazing for us! Not only did we get some great input from industry professionals, but the information we gained and relationships we made have helped us to become a full-time ministry over the last year. It is something that totally changed how we operate as a band."
"Feedback was different from any other conference I've been to in that it went beyond the business and gave artists a chance to connect and rejuvenate themselves," adds Noel McLeary, another 2007 attendee. "The evening speakers had nothing to do with the music industry and to me that made it real and relevant… really powerful stuff… we definitely witnessed God moving at Feedback."
Many industry specialists who participated in last year's Conference were quick to jump on board for Feedback '08.
"It was an honor to be a part of last year's Feedback Conference and I'm looking forward to the conferences this year," explains Josh Bailey, director of A&R for Word Label Group. Feedback is truly an environment where ministry and growth are fostered for both the artists and the industry attending."
Extreme Tour founder, Ted Bruun, continues: "Feedback is more than a seminar and certainly more than a showcase. Feedback is the first event I have seen in the endless parade of opportunities for bands that actually seeks to tear down the wall between the industry and the artists, making the correct information bands need to succeed accessible and understandable."
About Feedback Conference
Launched in 2007 by a team of industry veterans, Feedback Conference is an event for all artists, no matter their style, genre or target audience. The event is designed to give artists the tools they need to be more effective in their mission through practical teaching, passionate worship and relevant resources. The goal is to not only provide artists the chance to be heard by the industry, but also the opportunity to be able to make an impact with or without the help of a record label.
Sponsors for the 2008 Feedback Conference are World Vision, Daisy Rock, Litho Express, Larrivee Guitars, Artillery Media, Risen Drums, Pure Tracking and StickersAndMore.com, with new sponsors being added.
For more information about the Feedback Conference, a complete program and registration information, please visit www.feedbackconference.com.
###

[2022]
Jan. | Feb. | March | April | May | June | July | Aug. | Sept. | Oct. | Nov. | Dec.
[2021]
Jan. | Feb. | March | April | May | June | July | Aug. | Sept. | Oct. | Nov. | Dec.
[2001 - 2021]
Visit our complete MUSIC NEWS ARCHIVE