CASTING CROWNS' HEADLINING "THE ALTAR AND THE DOOR TOUR" MAINTAINS POLLSTAR POSITION AS BEST-ATTENDED, HIGHEST- GROSSING CHRISTIAN TOUR OF THE YEAR
Tour Delivers a Stunning 450,000 Fans Nationwide and
Unites Nearly 20,000 World Vision Child Sponsorships
NEWS SOURCE: Provident Label Group
May 8, 2008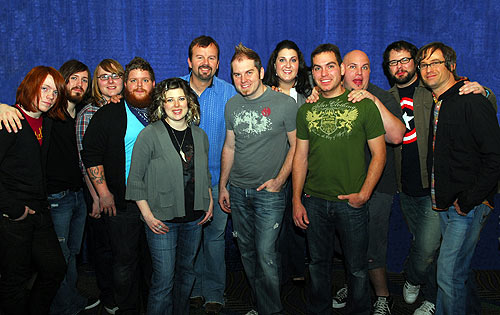 Photo Caption (L-R):
Leeland Mooring, Jack Mooring, Jake Holtz and Mike Smith of Leeland; Melodee DeVevo, Mark Hall, Chris Huffman, Megan Garrett, Hector Cervantes, Andy Williams and Juan DeVevo of Casting Crowns; and John Waller
(Nashville, Tenn.) May 8, 2008 - Casting Crowns, featured guests Leeland and breakout artist John Waller, also known as "The Altar and The Door Tour," just tapped off a year of memorable concert events, joining record-breaking crowds in 83 markets and tallying more than 450,000 in attendance nationwide since September.
"Our goal from the beginning was to point people to a daily walk with Jesus through our music and testimonies," says Mark Hall of Casting Crowns. "I believe God has honored our efforts and people saw and heard Him clearly!"
Standing steady as the highest-grossing tour in Christian music for the 2007-2008 season, the tour captured countless entertainment cover features in newspapers coast to coast and most notable attendances in Nashville, with 10,000 concert-goers and 14,004 gathering to worship at Greensboro Coliseum. Incidentally, attendance of "The Altar and The Door Tour" set a career-high for Casting Crowns, garnering 100,000 more than its previous "Lifesong Tour," which brought in a whopping 350,000 total.
"What an honor it is to serve God along side Casting Crowns and John Waller," explains Jack Mooring of Leeland. "This tour never lost its overall focus, and that's to lift Jesus higher."
"The Altar and The Door Tour" united 19,596 World Vision children with sponsors. Casting Crowns has now exceeded 30,000 career child sponsorships for the child relief organization.
Partnering with radio stations across the country has proven invaluable, as well, according to Jeff Taylor, General Manager of WAY-FM in Ft. Meyers, Florida, "The Altar and The Door Tour' was the highlight of the year for thousands of WAY-FM listeners in Southwest Florida! The band members and crew were so gracious and kind - no rock stars here!! ...their ministry impacted lives for eternity."
Well-seasoned promoters from the East Coast to the West Coast have not only been exceedingly encouraged by the attendances, but also revived and renewed by the response of worship from crowds. DC Concert promoter, Carol Auxier explains, "It's an awesome feeling to stand stage side and look out into the crowd and see thousands of people in praise and worship, responding to the band in concert. Casting Crowns has a humble spirit like none I have seen, even though they have reached peaks in the music industry that few artists have reached."
Jon Robberson of Celebration Concerts says, "The Casting Crowns concerts reminded me of why I love promoting Christian concerts and the purpose I've dedicated my professional life to."
GRAMMY-winning, multi-platinum artist Casting Crowns with lead singer Mark Hall recently led the 39th Annual GMA Dove Awards with seven wins including Group of the Year for the fourth consecutive year, and Song of the Year for its No. 1 hit "East to West." The group's third studio recording The Altar and The Door achieved an historical debut at No. 2 on The Billboard 200 chart with 130,000 first-week copies sold, making it the highest debut in the country that week. The album sailed to RIAA Gold status in 10 weeks. Casting Crowns was the No. 1 top-selling Christian music artist of 2007 and won its first American Music Award in November.
Lead singer Mark Hall is a full-time youth pastor, serving his 17th year in youth ministry as a student pastor at Eagle's Landing First Baptist Church in Atlanta. All seven band members remain active in student ministry in the Atlanta area and tour part-time around their local church duties. For more information on Casting Crowns and for updated spring concert listings, please visit www.castingcrowns.com.
The five-member, Baytown, Texas-based band, Leeland, has had its hands full since the release of its debut album (Sound of Melodies, 8/15/06), including collecting a 2007 GRAMMY Award nomination in the Best Pop/Contemporary Gospel Album category; non-stop touring across North America and even Japan, including a series of major festival appearances, headlining shows and opening for Casting Crowns on the entire Fall 2007 through Spring 2008 "The Altar and The Door" arena tour; five total Dove Award nominations (38th and 39th Annual) in categories as diverse as New Artist of the Year, Rock/Contemporary Recorded Song of the Year ("Sound of Melodies"), Rock/Contemporary Album of the Year (Sound of Melodies) and Praise and Worship Album of the Year (Sound of Melodies). Opposite Way, the second album from Leeland, released February 26, 2008. Leeland is: Leeland Mooring (lead vocals, guitar); Jack Mooring (keyboard, background vocals); Jake Holtz (bass); Mike Smith (drums); and Matt Campbell (lead guitar). For all upcoming tour dates and additional information on Leeland, visit www.leelandonline.com or www.myspace.com/leelandmusic.
Singer/songwriter and worship pastor, John Waller released his debut album, The Blessing, in March 2007. Since then, Waller continues to receive rave reviews and was named in the Top Ten lists of the best new artists of 2007 in Billboard magazine and Christianity Today. For more information, please visit www.johnwallermusic.com.
###

[2022]
Jan. | Feb. | March | April | May | June | July | Aug. | Sept. | Oct. | Nov. | Dec.
[2021]
Jan. | Feb. | March | April | May | June | July | Aug. | Sept. | Oct. | Nov. | Dec.
[2001 - 2021]
Visit our complete MUSIC NEWS ARCHIVE