33MILES' FRONT MAN JASON BARTON AND WIFE FEATURED IN JUNE ISSUE OF REDBOOK MAGAZINE
The Couple Discusses Covenant Marriage in Feature Story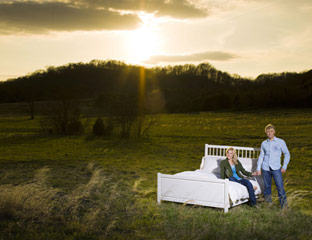 NEWS SOURCE: The M Collective
May 16, 2008
Nashville, Tenn. … May 16, 2008 … 33Miles' lead singer Jason Barton and his wife Jennifer were selected as the lead-in story in Redbook's June feature "The State of Our Unions" where nine couples opened up on the basic principles and challenges of marriage.
Reaching over two million readers as one of today's leading women's publications, Jason and Jennifer talked with Redbook magazine regarding their choice to have a covenant marriage, raising two sons, the importance of faith in their relationship and even about miscarriages the couple had earlier in their marriage.
"Jason and I believe that God designed marriage as a covenant, a binding promise never to be broken," says Jennifer in the June issue. "Our motto is Team Barton, and we live it every day."
The couple was chosen by Redbook, but was submitted by their pre-marital counselor who started the Covenant Marriage Movement.
"It was an honor to be chosen by Redbook Magazine to represent a covenant marriage and to express to its readers our belief that God designed marriage to be forever ... just like His commitment to love us is forever," says Jason about the magazine feature.
Since their debut in 2007, well-respected newcomers 33Miles celebrated one of the highest-selling freshman albums of 2007 with their GMA Dove nominated project 33Miles. Jason Barton, Chris Lockwood and Collin Stoddard performed over 130 concerts last year alone continuing to build new fans across the country. In addition, 33Miles has made tremendous impact on the radio charts garnering three consecutive radio hits with "What Could Be Better," "There Is A God" and "Thank You," two of those hits breaking the Top 10. The band is now at work on their sophomore album set to release this fall.
# # #