Summer Slam Vol.2 Is Here!
Get 52 Free MP3 Downloads!
NEWS SOURCE: a Jesusfreakhideout.com report
May 16, 2008
Indie Vision Music is offering the second volume of their Summer sampler for free right now -- and you can get 52 downloads for FREE... yeah, that's not a typo. Here's more info straight from the IVM mouth...
We now present to you our latest FREE Digital Compilation and is a sequel of sorts to our 2006 compilation by the name of Summer Slam. This one is Vol. 2 and it rocks! Bands of all styles should appeal to varying tastes and there is enough music here to make all of you happy. So let's get on with it…. The most epic of all compilations ever!

Click here for the link to download!
"Epic" may be strong words, but check out the band list below. It's not too shabby...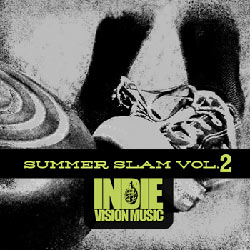 Bands appearing on Summer Slam Vol. 2:
1. The Comeback Tour
2. Gasoline Heart
3. Kessler *Appears courtesy of YMA Records
4. The Emerson Letters *Appears courtesy of Torque Records (Featuring Matt Goud of Means)
5. Esterlyn *Appears courtesy of Rooster Records
6. Cool Hand Luke *Appears courtesy of Lujo Records
7. Mojo & The Info (Featuring Matt Morginsky of The OC Supertones)
8. Quick and the Dead
9. Burning Tree Project
10. Clocktower Showdown
11. My Compatriots (Featuring former members of Stairwell/Bloodshed, Slow Coming Day, and Plankeye/Fanmail)
12. Take it Back *Appears courtesy of Facedown Records
13. The Echoing Green
14. Project 86 *Appears courtesy of Tooth & Nail Records
15. The Glorious Unseen *Appears courtesy of Tooth & Nail/BEC Records
16. Stavesacre *Appears courtesy of Abacus Recordings
17. Standing Small *Appears courtesy of Future Destination Records
18. The Dingees
19. Mxpx *Appears courtesy of Tooth & Nail Records
20. My Epic *Appears courtesy of Facedown Records/Dreamt Music
21. Sophia
22. Image Versus Audio
23. The Skyline Drive
24. Amaradio
25. Man Alive *Appears courtesy of High Fiber Records
26. David Tamaoka
27. Erika Soto
28. Ocean is Theory
29. The Apathy Eulogy
30. The Tapes
31. Mendelson
32. Blue Cadet and the Brave December
33. The Human Flight Committee *Appears courtesy of Blue Duck Records
34. Your Sparkle Heart *Appears courtesy of Future Destination Records
35. The Hotshot Frieght Train *Appears courtesy of Future Destination Records
36. The Dark Romantics *Appears courtesy of Lujo Records
37. Gray Lines of Perfection *Appears courtesy of Harvest Earth Records
38. Stand Your Ground *Appears courtesy of Harvest Earth Records
39. Kennebec
40. Endeverance
41. Blueprints of the Heart *Appears courtesy of Blue Duck Records
42. Thrush (Featuring former members of Craig's Brother, Too Bad Eugene, and Next in Line)
43. Arthur Alligood
44. Chasing Fireflies
45. Means *Appears courtesy of Facedown Records
46. Endeavor The Seas
47. I Am Terrified *Appears courtesy of Mono Vs. Stereo/Gotee
48. Thieves & Liars *Appears courtesy of Facedown Records
49. Kings to You *Bonus track "Don't Blink" included if you download both zip files.
50. All the Day Holiday
51. Safe Haven
52. Mouths of Lions

# # #