TENTH AVENUE NORTH CELEBRATES STREET WEEK AT TOP OF iTUNES CHARTS

Over and Underneath No. 1 iTunes Christian Album
"Love Is Here" in Top 10 on iTunes Christian Songs Chart

NEWS SOURCE: Provident Label Group
May 23, 2008
(Nashville, Tenn.) May 23, 2008 — Reunion recording artist Tenth Avenue North has spent the past week atop the iTunes charts with its national debut Over and Underneath claiming the No. 1 Christian Album spot and "Love Is Here" in the Top 10 on the iTunes Christian Songs Chart. The album has also been in iTunes' Top 50 overall sales chart, which ranks all genres of music available on the site. These sales rankings are not typically achieved by new artists at street week.
In addition, Tenth Avenue North spent part of its street week in Orlando, Fl. visiting media and radio, and performed for a crowd of more than 1,200 at Northland Church. The show, sponsored by Z88.3, ran for more than two hours after which the band signed autographs until after midnight.
Jeff Cruz, Assistant Program Director/Donor Relations for Z88.3 shares, "These guys are the real deal. From the impactful lyrics, engaging melodies, and high energy performance, Tenth Avenue North made this quite a show. When you add in the fact that Mike can so wonderfully speak to the crowd with the feel of an eloquent young pastor who has walked in their shoes, it became an experience that most concerts just do not achieve. I know that the 1,200 listeners there not only had a great time, but also felt the true presence of God! 'Love Is Here' is a great example of that passion and spirit. Listeners to Z88.3 are loving the song because of the message of hope and love, delivered in a magnificent musical package. And that is just the first song from the album! We can not wait to hear more from them."
The band will continue to visit cities nationwide through the summer and early fall in promotion of Over and Underneath. Further information on tour dates will be made available in coming weeks.
Tenth Avenue North, Mike Donehey (lead vocalist/acoustic guitar), Jason Jamison (drummer), Jeff Owen (electric guitar/background vocals) and Scott Sanders (bass guitar), has been featuring its brand of intellectual melodic pop-rock on its promotional tour in support of "Love Is Here," as well as its upcoming album project, Over and Underneath. "Simply, our mission as a band is to know Christ and to make him known," says Donehey. "It's a grand adventure."
With one listen to the music of Tenth Avenue North, it becomes obvious that songwriter Mike Donehey and his bandmates have a gift for expressing truth in a way that simultaneously educates, enlightens and entertains. They are as much teachers, as artists, demonstrating this through their intellectual, yet vulnerably accessible songs that echo the heart of the human condition and the hope of the risen Savior. Discover more about this up-and-coming band at www.tenthavenuenorth.com.
For up-to-date information on Tenth Avenue North, including tour itinerary, please visit:
www.tenthavenuenorth.com, www.myspace.com/tenthavenuenorth.com, or www.reunionrecords.com.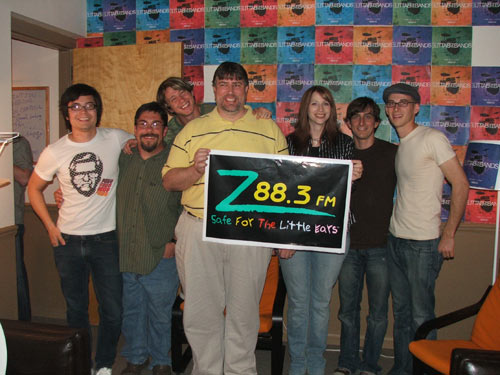 Photo Caption:
Tenth Avenue North band members gathered for a photo with friends from Z88.3 prior to playing for a crowd of more than 1,200 on Monday, May 19 in Orlando, Fl. Pictured L-R are: Jeff Owen, Tenth Avenue North; Jeff Cruz, Z88.3 APD/MD; Mike Donehey, Tenth Avenue North; Dean O'Neal, Z88.3 PD/Afternoons; Melony McKaye, Z88.3 Middays; Scott Sanders and Jason Jamison of Tenth Avenue North. (Photo by: Debbie Schrack - WPOZ/Z88.3)
# # #

[2020]
Jan. | Feb. | March | April | May | June | July | Aug. | Sept. | Oct. | Nov. | Dec.
[2019]
Jan. | Feb. | March | April | May | June | July | Aug. | Sept. | Oct. | Nov. | Dec.
[2001 - 2018]
Visit our complete MUSIC NEWS ARCHIVE