REBECCA ST JAMES: NATIONAL TV APPEARANCE NEXT WEEK ON BILLY GRAHAM SPECIAL OPENS BUSY "INTERNATIONAL" JUNE
"Forgive Me" Message Is Key To Singer's Concerts Worldwide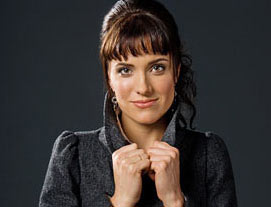 NEWS SOURCE: MorningStar PR
May 30, 2008
(Nashville, Tennessee) –May 30, 2008 -- Christian rocker, Rebecca St. James will bring a special message close to her heart as a featured highlight of the June Billy Graham TV Special, "Longing For Change," which will air in television markets throughout the U.S. May 31st through June 8th.
Rebecca will be seen on video in a special live edited performance of her song, "Forgive Me" originally recorded last year during a major crusade appearance with Franklin Graham in Canada.
The June Graham television special shares the stories of people who have searched for change in all the wrong places, discovering that lasting change comes only through Jesus Christ. It's a message the Australian born singer has shared from stages worldwide –and in the past several years, she has seen an outpouring of response to the "Forgive Me" song itself.
It is, in fact, a song with a message that's resonating importance to St. James secured a place on her 2005 album release, If I Had One Chance To Tell You Something.
"I actually heard 'Forgive Me' for the first time five or six years ago at Willow Creek Church in Chicago," she recalls. "I was so moved by hearing the song in the service that I actually went up to the worship team afterwards and asked about this song. I ended up meeting the writer, Scott Dyer—he had actually just written the song for that particular service. To me it was so inspired and so anointed—I asked him if he would send me a tape of the song—with the idea of maybe recording it. It was sent it to me probably six months to a year later and I had it sitting in my bedside table for literally years. Every once in awhile I'd pull the song out and listen to it again—and really be touched by it. It's really a song of confession—something that's too often absent today in our lives as Christians, to our own detriment. We all need to be reminded—as we will be by the Billy Graham Special next week—of God's continued love and forgiveness."
For additional information about the "Longing For Change" special, including promo video, webcast and local broadcasting dates, times and stations,resource online at www.billygraham.org/TV
Beginning tomorrow, Saturday, May 31st, Rebecca will also begin sharing the "Forgive Me" performance from the special on her own MySpace site: www.myspace.com/rebeccastjames
On the heels of the major U.S. television exposure next week, Rebecca herself is set to take her message and music that rocks to Europe for a series of concerts that will include stops in Scotland, England, Norway, Italy, Switzerland, and Austria.