THIRD DAY GARNERS BILLBOARD MAGAZINE'S JUNE 7 COVER
NEWS SOURCE: Provident Label Group
June 2, 2008
We reported on it Friday, but here's the official news release from the band's label...

(Nashville, Tenn.) June 2, 2008 – Atlanta-based rock band Third Day has been selected as Billboard Magazine's cover/feature story for the June 7 edition. This is the first time, since the trade's redesign in 2005, that a Christian band has been featured as a full cover story. The piece includes not only the cover, but a four-page feature within the revered publication's pages. Billboard Magazine, considered the "bible of the music industry,"is read weekly by more than 50 thousand people including music industry gatekeepers and music fans, world wide. (This issue of Billboard Magazine can be purchased at http://www.orderbillboard.com/BackIssueList.aspx?PNO=BLI).
While it's been almost three years since the release of the Third Day's last studio album, fans have been anxiously awaiting new music from the band, leading to the massive success of it's new single, "Call My Name," from the July 29, 2008 release, Revelation. Fans have a lot to look forward to as, together with superstar producer Howard Benson (Daughtry, Hoobastank, P.O.D. and Flyleaf), the band has boldly reshaped its sound for the next decade of its career.
After the release of Revelation, the band will hit the road for a series of summer festival appearances and the highly anticipated Music Builds Tour featuring Third Day with Switchfoot, Robert Randolph & the Family Band and Jars of Clay. Please visit www.musicbuildstour.com for updated information.
About Third Day:
Over the past decade, Third Day has racked up 24 No.1 radio singles and sold more than six million albums, with RIAA certifications, including one Platinum record, one Platinum DVD, and six Gold records. The band has garnered 23 career Dove Awards, three GRAMMY Awards (with eight career nominations), two consecutive American Music Award nods, multiple ASCAP honors, and has developed a historic partnership with Chevrolet.
Third Day has maintained a touring record second-to-none by playing for audiences reaching into the millions. In addition to these many accolades, the band is most proud of its humanitarian efforts that include raising nearly $300,000 for the victims of hurricanes Katrina and Rita and charities such as the Blood:Water Mission. The band is responsible for encouraging more than 15,000 fans to sponsor children across the globe through the work of World Vision. For more information on Third Day, please visit: www.ThirdDay.com.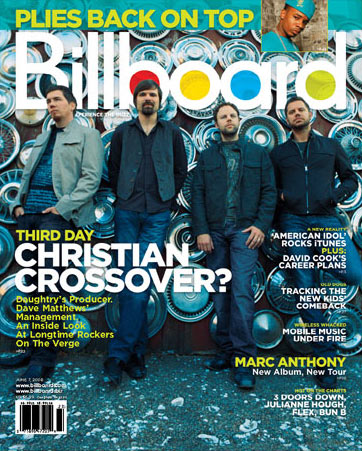 [2019]
Jan. | Feb. | March | April | May | June | July | Aug. | Sept. Oct. | Nov. | Dec.
[2018]
Jan. | Feb. | March | April | May | June | July | Aug. | Sept. | Oct. | Nov. | Dec.
[2001 - 2017]
Visit our complete MUSIC NEWS ARCHIVE