- PROVIDENT'S FRIDAY BUZZ -
FOR THE WEEK ENDING JUNE 6, 2008

KRYSTAL MEYERS QUICKLY SHINING WITH NEW RADIO SINGLE
BROOKE BARRETTSMITH SOUNDS GREAT
WARREN BARFIELD ON GOSPEL MUSIC CHANNEL, FAMILYNET TELEVISION
LEELAND CURRENTLY ROCKING EUROPE
TENTH AVENUE NORTH HOLDS STRONG AT RETAIL, RADIO AND MEDIA
NEWS SOURCE: Provident Label Group
June 6, 2008
Krystal Meyers Quickly Shining With New Radio Single: Pop artist Krystal Meyers made some big noise this week, as "Shine," the first single from her September 16, 2008 release, Make Some Noise, received 9 CHR adds by its first week at radio. Meyers shares the inspiration behind the song that is making fast-impact. "That's my favorite song on the record and it's so fun to play live," enthuses Meyers. "Recently, I've really learned that I have to be excellent in all that I do. I need to use the talents and opportunities that God has given me, to the fullest extent possible. The line from the song that says 'nobody's going to get in the way of my shine,' definitely sums up what this song is about. I'm blessed to be on this exciting journey, and I'm not going to let anything get in the way of my shine."
Brooke Barrettsmith Sounds Great: New Essential Records pop/rock artist Brooke Barrettsmith was recently the featured performer at the Nashville Sounds baseball game on Sat., May 31. She shared songs from her upcoming self-titled debut album set to release Aug. 19. The 26 year-old Chicago native has written a collection of uniquely crafted songs, melding her love of musical influences Jeremy Camp, Daughtry and Kelly Clarkson, with passionate lyrics reflecting messages of faith and encouragement. Brooke's debut is produced by Aaron Sprinkle (Jeremy Camp, Kutless, The Almost) and Rob Hawkins (Fireflight, Jackson Waters). For more, visit www.brookerocks.com.
Warren Barfield on Gospel Music Channel, FamilyNet Television: Essential Records recording artist Warren Barfield was on live TV this past Tuesday, June 3, on FamilyNet's "Everyday," where he interviewed with host Lisa Ryan (pictured below), in support of his new release, Worth Fighting For (5/20/08). Barfield additionally taped an upcoming episode of Gospel Music Channel's "Kitchen Sink," which will air at 8 p.m. ET, Saturday, June 14. Catch Barfield with host Elle Duncan (also pictured below), and watch him perform his current radio single, "Love Is Not A Fight," as well as "The One Thing" and "Drop the World."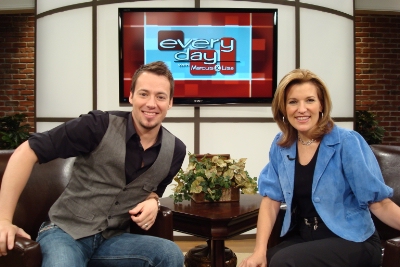 Caption: Warren Barfield and Lisa Ryan (co-host of "Everyday"), on the set of FamilyLife's "Everyday" TV program, following Barfield's interview on Tuesday, June 3, 2008.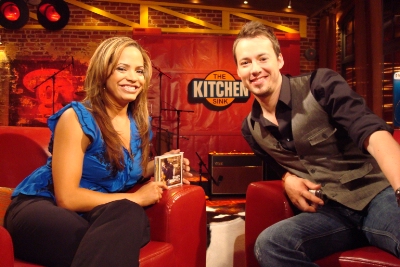 Caption: Warren Barfield stops for a photo with Gospel Music Channel's "Kitchen Sink" host, Elle Duncan, following Barfield's performance and interview on the "Kitchen Sink." The episode will air at 8 p.m. ET, Saturday, June 14, 2008.
Leeland Currently Rocking Europe: GRAMMY and Dove Award-nominated progressive rock band Leeland started a string of four back-to-back concerts in Europe, last night. The five guys from Baytown, Texas played at Filadelfia Oslo, last night (6/5/08), in St. Olavsplass Oslo, Norway. Tonight (6/6/08), the band will perform at Green Pastures Church, in County Antrim, Belfast, Ireland. Saturday's show is the Frenzy Festival, in Edinburgh, Scotland, followed by Sunday's set at Bradford, England's "Abundant Life Church." Leeland's Opposite Way (2/26/08) is in stores now.
Tenth Avenue North Holds Strong at Retail, Radio and Media: This week, Tenth Avenue North maintained its place in the Top 5 at CHR radio with "Love is Here," at No. 2. The song currently reflects, across formats, a total of 11,764,000 impressions this week, according to CRW. Digital retail reflects solid fan support as well, as "Love Is Here" is still in the Top 10 Christian songs at iTunes, while Over and Underneath (5/20/08) bounced back to reclaim the No. 1 spot on iTunes' Christian Album Chart. The band also broke into Napster's Top 200 Artists for the week, which is very impressive for a debut artist in the Christian Genre. Billboard Magazine's May 31 edition includes a review of Over and Underneath, complimenting the band on its music and depth of lyrics. The final sentence reveals, "This potent combination of music and lyrics adds up to the year's best Christian debut."
###

[2019]
Jan. | Feb. | March | April | May | June | July | Aug. | Sept. | Oct. | Nov. | Dec.
[2018]
Jan. | Feb. | March | April | May | June | July | Aug. | Sept. | Oct. | Nov. | Dec.
[2001 - 2017]
Visit our complete MUSIC NEWS ARCHIVE