RIPE FOR ADVENTURE, BIG IDEA PRESENTS THE ALL-NEW
VEGGIETALES®: TOMATO SAWYER AND HUCKLEBERRY LARRY'S BIG RIVER RESCUE

Available on DVD July 12, 2008

New Release Supported By Far-reaching National Marketing,
Promotions and Advertising Campaign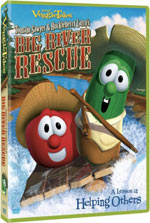 NEWS SOURCE: Hoganson Media
June 10, 2008
FRANKLIN, TN (June 10, 2008) – Take a ride on the mighty Mississippi where an all-new family adventure unfolds with the latest homespun tale from Big Idea, Inc., an Entertainment Rights group company! In this highly anticipated DVD, VeggieTales®: Tomato Sawyer and Huckleberry Larry's Big River Rescue, Bob and Larry star as the adventuresome duo in a creative veggie take on the great American classics of Tom Sawyer and Huckleberry Finn. Introducing the brand-new silly song, "The Biscuit of Zazzamarandabo," and a boatload of family-friendly bonus features, the new DVD is priced at $14.99 SRP and arrives in stores July 12 and 15, 2008 in Christian and general market stores respectively. The product and related merchandise are available in the CBA market through Word Distribution and in the general market through Genius Products.
Written by VeggieTales co-creator and natural born storyteller Phil Vischer, this heartwarming story takes Tomato Sawyer and Huckleberry Larry on an unforgettable journey where they discover an important lesson in helping others inspired by James 4:17. "Sometimes not helping someone can be just as bad as actually hurting them," says Vischer.
Synopsis:
Meet Tomato Sawyer and Huckleberry Larry – two friends homesteading along the banks of the mighty Mississippi River. Tom and Huck look forward to owning their own land, building a home and opening Huck's Jerkyland and Tom's Tax Preparation. But everything changes when they meet a mysterious stranger who is on the run and trying to find his mama. Will Huck and Tom risk losing all they've worked for in order to help someone they hardly know? Find out in this exciting river rescue that reminds kids of the importance of helping others.
MARKETING SUPPORT
VeggieTales®: Tomato Sawyer and Huckleberry Larry's Big River Rescue will be supported by an extensive national marketing, promotions and advertising campaign that will target moms in both the Christian and general markets. As part of the campaign, promotional partner Chuck E. Cheese's will show the new Silly Song from the DVD in the birthday area in over 500 stores nationwide.
CBA Exclusive – Free Gift with Purchase!
Big Idea is offering CBA retailers the opportunity to participate in a "free gift with purchase" campaign. Consumers who buy the Big River Rescue DVD will receive a free Trip Time Fun Activity Book at the time of purchase. The activity book includes 16 pages of coloring and activity fun, a pull-out poster and a 6-song bonus CD featuring favorite VeggieTales road trip songs! This special CBA promotion will run while supplies last.
Grassroots Marketing and Events
Big Idea's grassroots efforts will include a strong presence at numerous summer music festivals in order to reach the expected 500,0000 attendees through the promotional trailer on jumbotrons, main stage character appearances and banners. Other efforts involve direct to church mailings and e-blasts, and advertising in Children's Ministry Magazine.
Major and Minor League Baseball
In support of Big River Rescue, Bob, Larry and other Veggie friends will make on and off field appearances this summer at 25 major and minor league baseball games, including a featured performance of Larry singing "Take Me Out To The Ball Game" during the 7th inning stretch. Big Idea will also provide meet and greet photo opportunities, banners and a promotional trailer on stadium jumbotrons.
National Print and Online Campaign
An extensive advertising campaign will promote VeggieTales: Tomato Sawyer and Huckleberry Larry's Big River Rescue via high-profile parenting and family publications, including: Family Fun, Wondertime, Focus on the Family, Today's Christian Woman and Scholastic Parent & Child. An aggressive online advertising campaign will also promote the new title on family-friendly websites through comprehensive online banner ads and contest campaigns on sites such as Focus on the Family and other key parenting sites. Furthermore, Big Idea will place on-screen ads in 1,300 theaters nationwide this July and August.
At BigIdea.com, Big River Rescue is currently a featured title on the site. The title will also be heavily promoted to the 200,000+ member Big Idea fan base with special "Enter to Win" opportunities and access to other Big River Rescue downloadable materials. Additionally, Big River Rescue will be cross-promoted on Bible.com targeting 200,000 households via on-line promotion and on iTunes through a pre-awareness digital downloads campaign starting July 15, 2008.
National Radio Promotions
To garner support at radio, Big Idea will implement a national Christian radio campaign featuring ads and "Win it before you buy it" promotions on major Christian networks. A campaign on the nationally syndicated radio show, "Delilah," will bring Big River Rescue to more than 200 markets in the U.S. through promotional ads and giveaways.
Bonus Features

Music and Video: New Silly Song Sing-Along "The Biscuit of Zazzamarandabo"
Behind the Scenes: The Making of Big River Rescue, Art Gallery
Interactive Family Activities: Family Activity, Video Trivia, Interactive Storybook, Book Reference, Discussion Guide, Why We Do It
Fun Games: How to Draw, DVD-Rom Fun

About Big Idea, Inc.
Big Idea, Inc., an Entertainment Rights group company, is the leading faith-based studio and producer of children's and family programming, characters and brands. Since 1993, Big Idea's best-selling animated series VeggieTales has sold 52+ million videos, 13 million books. VeggieTales and Big Idea's newest property, 3-2-1 Penguins!, are in their second season as the top-rated series on NBC Saturday mornings, Telemundo and ION TV via the qubo children's programming block. The studio's two theatrical releases, Jonah-A VeggieTales Movie (2002), and Universal Pictures' and Big Idea's The Pirates Who Don't Do Anything-A VeggieTales Movie (2008), are distinguished among the top ten most successful faith-based films of all time. Big Idea also maintains an extensive presence in publishing, licensing and live entertainment arenas. For more information on Big Idea, visit: www.bigidea.com.

VeggieTales: Tomato Sawyer and Huckleberry Larry's Big River Rescue
Not Rated, 50 minutes, Color, Stereo, Close-Captioned
Dolby 5.1 Surround Sound
English and Spanish subtitles
DVD UPC Code: 820413111793 $14.99 SRP

###

[2020]
Jan. | Feb. | March | April | May | June | July | Aug. | Sept. | Oct. | Nov. | Dec.
[2019]
Jan. | Feb. | March | April | May | June | July | Aug. | Sept. | Oct. | Nov. | Dec.
[2001 - 2018]
Visit our complete MUSIC NEWS ARCHIVE