BRAVE SAINT SATURN'S "ANTI-MERIDIAN" RELEASE DELAYED UNTIL END OF JULY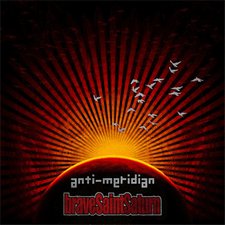 NEWS SOURCE: Reese Roper / BraveSaintSaturn, a Jesusfreakhideout.com report
June 24, 2008
Today was the original release date for BraveSaintSaturn's long awaited third (and reportedly final) installment in a trilogy of projects. News of details on the release date has become scarce in recent months, but today band frontman Reese Roper sent out the following email giving an update on the project, which can now be preordered at BraveSaintSaturn.com...
"Hello everyone who was cool enough to sign up, Number one, thanks so much for signing up to be on the Brave Saint Saturn email list. It is so heartwarming to know that you are still all out there, listening. The second thing I am writing you about is actually kind of a bummer, and that is to let you know that we have decided to push the release date on the album back into the end of July. Not to be jerks, although it feels good to do something that we could never do on someone else's record label, but to make sure that this will be the best album we have ever made. It's getting close. So please, be patient. If you would like, our new website just went up, and it will allow you to enter into a drawing for my Brave Saint Saturn Crew uniform by pre-ordering ANTI-MERIDIAN. There are also full demo versions of 'tarling,' and another song, 'When You Burn Too Fast.'

Thanks for being awesome.

Godspeed,
Reese Roper"
###

[2020]
Jan. | Feb. | March | April | May | June | July | Aug. | Sept. | Oct. | Nov. | Dec.
[2019]
Jan. | Feb. | March | April | May | June | July | Aug. | Sept. | Oct. | Nov. | Dec.
[2001 - 2018]
Visit our complete MUSIC NEWS ARCHIVE