K-LOVE FRIENDS & FAMILY MUSIC CRUISE:
6TH ANNIVERSARY SAILS TO NEW HEIGHTS WITH EARLY PRE-SEASON SELL-OUT ON THE HORIZON FOR '09
"MYSTERY ARTIST" Is Revealed! It's Platinum Selling Super Group Third Day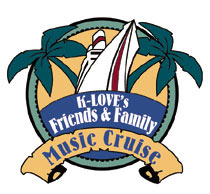 NEWS SOURCE: MorningStar PR
July 24, 2008
(Nashville) – July 22, 2008 –Premier Christian Cruises has only their own gold standards to exceed with the January 2009 "6th Anniversary" sailing of their annual K-LOVE Friends & Family Music Cruise. Pre-sales of cabin space already top the 70% capacity mark more than six months before the ship is scheduled to set sail.
Part of the marketing excitment in recent weeks has been the ongoing promotion of a "mystery artist" set to sail the seas with the K-LOVE crew next January!
K-LOVE listeners as well as those pre-booking cabin space weren't disappointed when announcement was made recently that the mystery was solved. Multi-Grammy and Dove Award winning super group Third Day will make their voyage on the K-LOVE floating stage for an audience that will include both cruise-goers and a full boatload of the network's radio broadcasters and their families.
Premier has more exciting plans in place for the January 22-26th 2009 presentation of the K-LOVE cruise. Traditionally a sell-out and always a heavily promoted event via the K-LOVE network of "positive & encouraging" radio stations across the U.S, the '09 itinerary planned for passengers includes sailing from Miami to the Grand Turk Island with two gloriously "sun and fun" days at sea on the five day/four night ship's calendar.
Another major homerun for January's passengers will be the expanded amenities of the luxury ship itself. Carnival Destiny, a luxurious 2,642 passenger, floating resort at sea offers the expanded cabin capacity to meet the overflow booking demands that annually greet the K-LOVE themed cruise. The ship offers more spacious staterooms—50% larger than the average cruise accommodations with double the amount of cabins with ocean balconies. Combined with fine dining, three full size swimming pools, waterslides, miniature golf, fitness centers, and a virtual dreamscape of onboard attractions, Destiny lives up to the definition of "vacation experience of a lifetime" for the entire family.
Topping the list of reasons to get onboard is the largest presentation yet of major name Christian music artists, national speakers, comedians, and shipboard attractions for children.
In addition to Third Day, other major Christian artists booked for the K-LOVE cruise include: Building 429, Matthew West, Mandisa, Brandon Heath, Sanctus Real, Phil Wickham, Nicole C. Mullen, Salvador, Rush of Fools, Annie Moses Band, Denver & The Mile High Orchestra, Phil Joel, and special reunion concerts with 4Him, and legendary Christian music industry pioneers, DeGarmo & Key.
National speakers targeted to reach the entire family with motivation and encouragement include: Nationally known author and evangelist, David Nasser, best selling Christian author, Karen Kingsbury, lead Chaplain for MRO'S (Motor Racing Outreach) Nationwide Series Lonnie Clouse, and student minister speaker/motivator, Phil Newberry. Illusions by Brock Gill, comedy from the 321 Improv,and children's attractions that include Barnum & Bailey circus alumni Don B, and VeggieTales' popular characters, Bob & Larry, will round out a full schedule of non-stop shipboard fun for kids.
Among the unique booking incentives being offered by Premier on the '09 cruise is a special group savings package. Book two cabin or more and cruise-goers will receive $200.00 off each stateroom accomodation.
For complete information and booking availabilities on the K-LOVE Friends & Family Music Cruise, resource online: www.premierchristiancruises.com
Or call Premier Christian Cruises at 1-800-889-5265.
# # #