- PROVIDENT'S FRIDAY BUZZ -
FOR THE WEEK ENDING AUGUST 1, 2008
FIREFLIGHT INVITED TO PLAY FOR THE NBC/UNIVERSAL
TELEVISION MUSIC SERVICES GROUP

NEVERTHELESS' NEW RADIO SINGLE, "SLEEPING IN,"
AVAILABLE ONLINE TUESDAY, AUGUST 12

ANNIE MOSES BAND WRAPS UP FINAL
"FINE ARTS SUMMER ACADEMY" OF 2008

BROOKE BARRETTSMITH PERFORMS AT SPIRIT WEST COAST;
PERFORMANCE FEATURED ON THE CALIFORNIAN FRONT PAGE

CASTING CROWNS FEATURED ON BILLY GRAHAM ASSOCIATION
HOMEPAGE THIS WEEK
NEWS SOURCE: Provident Label Group
August 1, 2008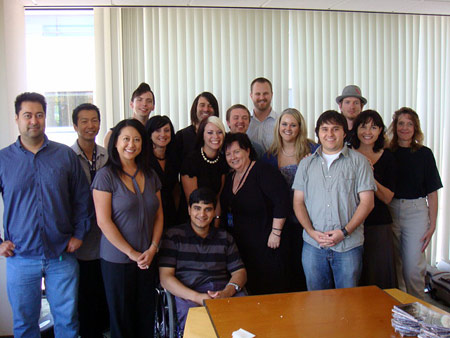 Photo Caption:
Fireflight pictured with the NBC/Universal Television Music Services Group
Fireflight Invited to Play for the NBC/Universal Television Music Services Group: Orlando-based rock band Fireflight was invited to the NBC studios this week in Los Angeles to meet with the NBC/Universal Television Music Services Group. On Tuesday, July 29, Fireflight played an exclusive showcase for the group, and also had a viewing of NBC's "Bionic Woman" music video promo featuring Fireflight's hit song "Unbreakable," which was created specifically for the primetime show last fall. Janine Kerr, Director of Promo Services for NBC, said, "Thank you Fireflight, rock songs with a positive message, love that attitude. I love your music." For more info on the band, please visit www.fireflightrock.com.
Nevertheless' New Radio Single, "Sleeping In," Available Online Tuesday, August 12: Chattanooga, Tenn.-based pop/rock band Nevertheless is making "Sleeping In" available for purchase online everywhere on Tuesday, August 12, 2008. "Sleeping In" is the first radio single from the group's upcoming September 16, 2008 release, In the Making… Also on August 12, iTunes will begin to offer a Nevertheless "Complete My Album" EP, which will consist of the following three tracks, from In the Making…, "Sleeping In," "Long Shot" and "Found My Way Back Again." Nevertheless will be in Gilford, N.H. this Saturday, August 2, for its performance at SoulFest. Keep up-to-date with Nevertheless at www.neverthelessmusic.com.

Photo caption:
This Glorious Christmas album cover / Annie Wolaver of the Annie Moses Band helps a budding violinist during the "Fine Arts Summer Academy" in Memphis.
Annie Moses Band Wraps up Final "Fine Arts Summer Academy" of 2008: The Annie Moses Band just wrapped up its final "Fine Arts Summer Academy" for 2008 with a spectacular performance at Faith Baptist Church in Memphis, Tenn., where over 200 students put on a Broadway-style performance showcasing what they learned during the week-long Academy. Included in the performance was the debut of a new children's musical penned by parents of the Annie Moses Band, Robin and Bill Wolaver, titled, "Pennywhistle Park." Over 400 students received high-level, intense instruction in strings, vocal performance, piano, drama, dance and other arts during the 2008 Academy season which included sessions in Raleigh, N.C., and Memphis, Tenn. The band's Reunion Records debut This Glorious Christmas, releases October 7, 2008. For more information, please visit www.anniemosesband.com.
Brooke Barrettsmith Performs at Spirit West Coast; Performance Featured on The Californian Front Page: Essential Records new pop/rock artist Brooke Barrettsmith rocked out at the K-Love Main Stage on Thursday, July 31, at the 12th annual Spirit West Coast, a three-day festival with more than 20,000 attendees in Monterey, Calif. Photos from Brooke's performance are featured today on the front page of central California's daily newspaper, The Californian website. Brooke's self-titled debut album releases August 19. For more info on Brooke, please visit www.brookerocks.com.
Casting Crowns Featured on Billy Graham Association Homepage This Week: A recent interview with Mark Hall, the acclaimed lead singer and songwriter for Christian music powerhouse Casting Crowns, is currently featured on the homepage of Billy Graham Evangelistic Association's web site. View it here: http://www.billygraham.org/. A performance from the multi-platinum band will close out the final night of the Lowcountry Franklin Graham Festival in Charleston, S.C., this September. For more, visit www.castingcrowns.com.
###