PRODUCER MATT BRONLEEWE'S NEW NOVEL, HOUSE OF WOLVES HAS AUGUST RELEASE
AUTHOR WEAVES MODERN DAY FICTION WITH REALITY OF RARE, MEDIEVAL BOOK'S MYSTERIOUS PAST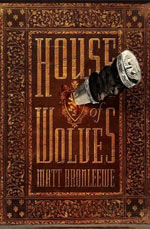 NEWS SOURCE: MorningStar PR
August 4, 2008
Nashville, Tennessee—August 4, 2008 – Matt Bronleewe, touted by reviewers as 'a rare breed of suspense writer' with the 2007 release of his debut novel, Illuminated, proves himself again to be a master of intelligent escape in his second novel, House of Wolves, (Thomas Nelson, ISBN 978-1-59554-2502, $24.99 hardcover) reaching national bookshelves next week (12th).
At the heart of Bronleewe's latest armchair adventure thriller is the struggle for the possession of a very real, very rare medieval volume—The Gospels of Henry The Lion—a book commissioned in the 11th century by Henry the Lion, Duke of Saxony. The 266 page manuscript containing the text of the four gospels and adorned with lavish Romanesque illuminations is rumored by historians to be stained with the blood of all who tried to possess it. After centuries shrouded in real life mystery, the ancient volume—thought to have been stolen by the Nazis in World War II—re-appeared from the shadows to be sold in December 1983 by Sotheby's in New York--commanding an amazing sum of $12 million dollars at auction.
Steeped with historical research, Bronleewe began his creative process on a novel that comes with the warning to fiction readers to approach armed for a page turning thriller!
Embroiled at the center of a deadly 21st century struggle to possess the ancient gospels is Bronleewe's fictional, danger-addicted rare books dealer, August Adams, the compelling lead character who initially captured reader's with his introduction in Illuminated. House of Wolves sets Adams on another high powered 'Indiana Jones' style mission. Set on the destruction of Adams and his family is the secret society of the Black Vehm, a sect who will stop at nothing—including a chain of international murders—in the sinister plot to gain possession of what has become known in legend as "history's most dangerous book."
Matt Bronleewe is an award winning music producer, songwriter and musician. A founding member of groundbreaking platinum selling Christian band, Jars of Clay, Bronleewe has since leaving the group produced major mainstream artists such as Natalie Imbrulgia, Disney sensations, Aly & AJ, Kimberly Locke of American Idol, as well as an array of major names in Christian music including Michael W. Smith, Plumb, Rush of Fools, and Rebecca St. James, among many others. A multi-Dove Award winner, his production and songwriting has to date been responsible for the sale of more than 20 million units of music worldwide.
House of Wolves will be supported by Thomas Nelson with major national media, including radio, retail and online campaigns. Promotional excerpts and free downloads will be made available through the author's website.
Resource online: http://www.mattbronleewe.com/
###