STEVEN CURTIS CHAPMAN & FAMILY OPEN THEIR HEARTS TO AMERICA
Family to Appear on GOOD MORNING AMERICA, LARRY KING LIVE and in PEOPLE magazine
New Single "Yours" Goes to Radio and DSP's with Additional Verse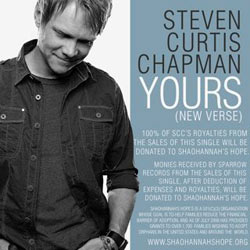 NEWS SOURCE: The M Collective
August 4, 2008
NASHVILLE, TN....AUGUST 4, 2008....GRAMMY and Dove Award winning artist Steven Curtis Chapman, along with his wife Mary Beth, and eldest children Emily, Caleb, and Will, will soon be opening their hearts to America about the loss of their daughter and sister Maria Chapman this past May 21st. GOOD MORNING AMERICA will air a special interview with Robin Roberts from The Chapman's home in Franklin, TN on August 6th in the 8am EST hour, followed by a live interview from Los Angeles on LARRY KING LIVE on August 7th, and an extensive feature in an upcoming issue of PEOPLE magazine. The decision to speak publicly was not an easy one, and these will be the first interviews the family has participated in since Maria's death.
"Initially Steven talked about never doing any concerts or media ever again," comments Jim Houser, Chapman's manager. "But quickly God began to show Steven that if he ever believed the songs he was writing, singing and recording before May 21st and Maria's loss, that they must still be true now. It's the family's hope that these appearances will serve as a chance to proclaim to a watching world what they know and are deeply convinced of even in these difficult days, the Gospel is true and faith in Christ is our Hope."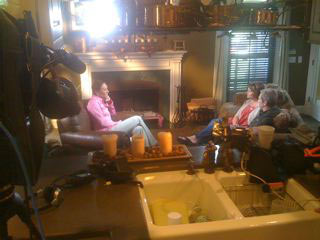 As a part of the family's acknowledgement of the tragedy and God's faithfulness to them through this difficult time, Chapman has also written a new verse to his song "Yours" from his current project, "THIS MOMENT":
I've walked the valley of death's shadow
So deep and dark that I could barely breathe
I've had to let go of more than I could bear
And questioned everything that I believe
But still even here
in this great darkness
A comfort and hope come breaking through
As I can say in life or death
God we belong to you.
"Yours" is the follow-up single to his hit "Cinderella," a song written about Maria and her sisters, for which Chapman is also now changing the poignant last line in live performance to "'Cause all too soon the clock will strike midnight/But the truth is... The dance goes on." "Yours" will be available for purchase via digital service providers including iTunes ®, Amazon, Rhapsody, Napster, etc. as of August 5th, with 100% of Chapman's royalties from the sales of this single being donated to Shaohannah's Hope. Producer Matt Bronlewee and co-writer on "Yours" Jonas Myrin have also joined the effort with 100% of their royalties from the single going to Shaohannah's Hope, and additionally monies received by Sparrow records from the sales of this single, after deduction of expenses and royalties, will be donated to Shaohannah's Hope. Shaohannah's Hope is a 501C(3) organization whose goal is to help families reduce the financial barrier of adoption, and as of July 2008 has provided grants to over 1700 families wishing to adopt orphans in the United States and around the world. For more details on Maria's Miracle Fund and Shaohannah's Hope, please visit www.showhope.org.
Be sure to look for Chapman's major market tour taking place this fall with additional details to be announced within days.
www.stevencurtischapman.com

###
About Steven Curtis Chapman:
With his release of THIS MOMENT, Chapman has sold over ten million records including two RIAA certified platinum albums and seven RIAA certified gold albums. Along with his Dove and GRAMMY © awards, Chapman has won an American Music Award, has recorded 44 No. 1 US radio hits and been awarded 54 Dove Awards, more than any other artist to date. Since his recording career began in 1987, Chapman has recorded sixteen projects with Sparrow Records. He has performed at the White House and has appeared on multiple national programs via CBS, NBC, ABC, CNN, MSNBC, CMT, FOX News, the Hallmark Channel and E!, including Good Morning America, Larry King Live, CBS Sunday Morning, The Tonight Show with Jay Leno, and more. More than five years ago, Chapman and his wife Mary Beth created The Shaohannah's Hope Ministry after bringing their first adopted daughter, Shaohannah, home from China. The ministry's goal is to help families reduce the financial barrier of adoption, and has provided grants to over 1700 families wishing to adopt orphans from around the world.
About Good Morning America:
Seen nationally, ABC's morning tradition, Good Morning America began airing in 1975 and reaches a huge audience of approximately 8 to 10 million each morning. The program presents daily news, information and features in a captivating format. Issues and stories explore a variety of topics confronting Americans and their families today, with interviews, light-hearted features, book reviews and other home-oriented topics.
About Larry King Live:
Larry King Live is a worldwide, live television viewer call-in program providing a mix of topical discussions on critical public policy issues and celebrity interviews. The program is known for its political debates and announcements, as well as unflinching portraits of guests and in-depth profile interviews. The show is seen nationally and internationally by between 1 and 2 million nightly on CNN, the Cable News Network.
About People Magazine:
With a circulation between 3 to 4 million people each week, PEOPLE Magazine was established in 1974 and designed as a forum for personality journalism through the use of short articles on contemporary news events and people. Content focuses on celebrities in the arts, sciences, business, politics, entertainment and sports.