Third Day's Revelation Claims No. 1 Spot on Nielsen Christian SoundScan Chart
No. 1 iTunes Christian Album and No. 6 on Billboard's Top 200
"Call My Name" No. 1 at Radio for Tenth Consecutive Week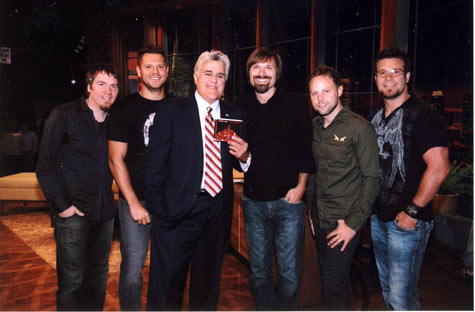 Photo Caption
: Third Day with Jay Leno on set at The Tonight Show with Jay Leno L-R: Mark Lee, Tai Anderson, Jay Leno, Mac Powell, David Carr and Scotty Wilbanks.
NEWS SOURCE: Provident Label Group
August 6, 2008
(Nashville, Tenn.) August 6, 2008 – Following a busy street-week, which included a performance on The Tonight Show with Jay Leno, multi-million selling rock band Third Day breaks its own first-week sales records today as its 10th studio album Revelation debuts at the top of multiple sales charts. Revelation, with a total of 75,388 in sales, claims the No. 1 spot on Nielsen's Christian SoundScan chart, is the No. 1 Christian Album at iTunes and is an impressive No. 6 on Billboard's Top 200 making it this week's top-selling debut album in the nation.
Earlier in the week, Revelation was No. 3 on the overall iTunes chart, ahead of both Miley Cyrus and Lil Wayne, and was prominently featured on homepages of iTunes, Napster, Amazonmp3, Zune and Rhapsody.
This week's numbers reflect high-impact street week activity which not only included a street-day "Tonight Show" performance, but a three-day take over of Sirius Satellite Radio's "Spirit" channel, exclusive fan events in three major K-LOVE markets and key coverage in national outlets including Billboard Magazine, R&R, USA Today, NY Post, Atlanta Journal-Constitution, The Dallas Morning News and The Tennessean.
In addition, "Call My Name," has maintained its No. 1 spot on the R&R Christian AC radio charts for its tenth consecutive week resulting in more than 24,000,000 weekly impressions and cumulative impressions of more than 340 million.
Third Day lead vocalist, Mac Powell, shares, "We had an incredible week. We got to perform on 'The Tonight Show,' take over Sirius Satellite's 'Spirit' channel and we got to interface with our fans at the K-LOVE shows. We couldn't believe how many people came out to see us; it was humbling and a lot of fun. It made us even more excited about getting out on the road again for the Music Builds tour."
Three exclusive K-LOVE secret-show/fan events, which drew crowds in the thousands, were held on July 30 in Phoenix; July 31 at Spirit West Coast in Monterrey, Calif. and August 1 in Denver. K-LOVE's Jon and Sherry Rivers were the first to interview the band after their performance on The Tonight Show with Jay Leno on their morning show broadcast, live nationwide.
"The response was overwhelming. Thousands of listeners registered to win a trip to one of our secret-shows and receive a copy of the new CD, Revelation. The listener response was overwhelming. We just wish we could bring Third Day to more K-LOVE cities," offered Mike Tedesco, Brand Manager, K-LOVE.
David Pierce, Chief Programming Officer for K-LOVE and AIR 1, adds, "Partnering with Third Day and Provident was both exciting and successful. Third Day provided an incredible experience for K-LOVE listeners in Phoenix, Monterrey and Denver! We appreciate their partnership and wish them continued success with the new CD Revelation!"
Shawn McSpadden, Red Light Management, enthusiastically noted, "This week was amazing, with Leno on Tuesday, an over-capacity show in Phoenix on Wednesday, headlining Spirit West Coast on Thursday and another over-capacity show in Denver on Friday. This week was about the band interacting with fans. The guys took requests from the audience and signed every autograph for each person each night - which lasted hours. It was exhausting but the guys loved every minute with their fans. At the end of the week the guys were so enthused by being able to spend time with their fans that they are trying to find a way to do a couple more of these type of shows between now and the start of the Music Builds tour on August 21 So stay tuned!"
Recorded with producer Howard Benson (Daughtry, P.O.D., Flyleaf, Hoobastank) in Los Angeles, Revelation is the follow-up to Third Day's Wherever You Are, which debuted at No. 8 on The Billboard 200 chart in 2005 and went on to become the band's third consecutive studio album to win a GRAMMY award. Guest artists on Revelation include Chris Daughtry, Flyleaf's Lacey Mosely and pedal steel guitar wizard Robert Randolph.
Third Day, recently the subject of a Billboard cover story,will play a series of U.S. festivals before teaming up with Switchfoot, Robert Randolph & the Family Band and Jars of Clay for the "Music Builds" tour. Habitat for Humanity affiliates located in tour cities will be the beneficiaries of a portion of the funds raised during the "Music Builds" tour, through a multi-platform program run by Hollywood for Habitat for Humanity and Live Nation, in conjunction with the artists. (Please visit www.musicbuildstour.com for further details and tour dates.)
Over the past decade, Third Day has racked up 25 No. 1 radio singles and sold close to seven million albums. The band has garnered 23 career Dove Awards, three GRAMMY Awards (with eight career nominations), two consecutive American Music Award nods, multiple ASCAP honors, and has developed a historic partnership with Chevrolet. One of the top-ranked touring bands according to Pollstar, Third Day has played for audiences reaching into the millions and been covered by CBS' "60 Minutes" and ABC's "Nightline." The band's humanitarian efforts include raising nearly $300,000 for the victims of hurricanes Katrina and Rita and charities such as the Blood:Water Mission. The group is responsible for encouraging more than 15,000 fans to sponsor children across the globe through the work of World Vision. For more information on Third Day, please visit: www.ThirdDay.com.
# # #