AUDIO ADRENALINE CREATORS PRESENT "SENS DE VIE" VARIETY SHOW TOUR
NEWS SOURCE: Audio Adrenaline
, a
Jesusfreakhideout.com
report
August 13, 2008
A mysterious email hit inboxes today with the subject line "The Creators of Audio Adrenaline Present..." Naturally, this tickled our interest. Inside the email is an advertisement for "Sens de Vie" ("Meaning Of Life"), a new Faith-based Variety Show. Below is the tour bio...
Sens de Vie
"MEANING OF LIFE"
Fall Tour 2008
An evening variety show of Music, Mystery, and Illusion

A throw back to the magical days of Vaudeville, Sens de Vie brings variety, excellence, and a taste of something different to the stages of America. Sens de Vie, translated "meaning of life," sets out not only to entertain the family at the highest level, but to take them on a journey of reflection to stretch their imagination and perspective.

The show is anchored by master illusionist and communicator BJ Harris. While performing death defying acts and breath-taking illusions, Harris weaves together a fabric of mystery and meaning by performing such classics as "Sawing a Lady in Half" and Harry Houdini's famous "Metamorphosis." However, BJ's uncanny ability to create unforgettable moments onstage with audience members is the special ingredient that makes Sens de View come to life.

Harris is also joined on stage by Essential recording artists Tal & Acacia, as well as Ringling Bros. Barnum & Bailey veteran and world champion circus performer DonB! Together, these performers bring music, comedy, mystery, and meaning that is sure to amaze and inspire audiences of any demographic.

The show is about to begin... are you ready to discover the meaning of life?
To view a trailer for the show, download the file here
To view a tour poster for the show, download the file here
To view the bio for the show, download the file here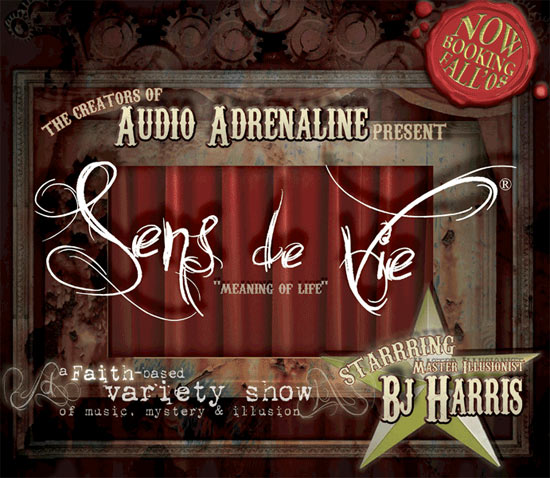 # # #