PEOPLE MAGAZINE TO RUN EXCLUSIVE, 6 PAGE FEATURE ON STEVEN CURTIS CHAPMAN AND FAMILY THIS WEEK
NEWS SOURCE: The M Collective
August 13, 2008
*In an exclusive, first print interview since the tragic loss of their daughter and sister Maria Sue Chapman on May 21st, and following emotional appearances last week on GOOD MORNING AMERICA and LARRY KING LIVE, Steven Curtis Chapman, his wife Mary Beth, and children Emily, Caleb and Will, share their memories of Maria, their faith in God, and their strong love for each other with PEOPLE magazine staff writer Eileen Finan in the issue that hits news stands this Friday, August 15th. A preview of the story is now up on the front page of their website at: http://www.people.com/people/article/0,,20218812,00.html. PEOPLE Magazine has a circulation between 3 to 4 million people each week.
*Last week's appearance on GOOD MORNING AMERICA can be viewed by going to Chapman's website at http://www.stevencurtischapman.com. In addition, the LARRY KING LIVE interview can be seen by going to http://www.youtube.com/watch?v=9u8T3dL8KYo. Also be sure to check out Larry King's personal comments about the Chapman's appearance on his program last week: http://www.cnn.com/video/#/video/bestoftv/2008/08/08/lkl.about.thurs.cnn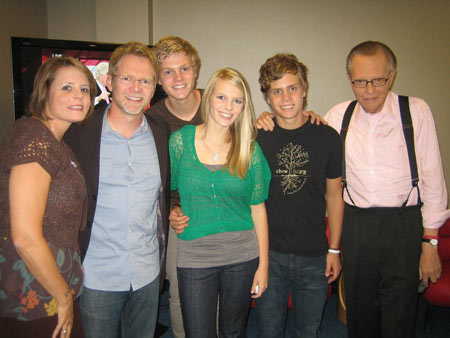 *Chapman has also launched a new radio single with "Yours" which received an incredible 21 adds this week on R&R's Christian AC chart. Chapman has written a new verse for the song as a part of the family's acknowledgement of the tragedy and God's faithfulness to them through this difficult time. "Yours" will be available for purchase via digital service providers including iTunes ®, Amazon, Rhapsody, Napster, etc. as of August 5th, with 100% of Chapman's royalties from the sales of this single being donated to Shaohannah's Hope. Producer Matt Bronlewee and co-writer on "Yours" Jonas Myrin have also joined the effort with 100% of their royalties from the single going to Shaohannah's Hope, and additionally monies received by Sparrow records from the sales of this single, after deduction of expenses and royalties, will be donated to Shaohannah's Hope. Shaohannah's Hope is a 501C(3) organization whose goal is to help families reduce the financial barrier of adoption, and as of July 2008 has provided grants to over 1700 families wishing to adopt orphans in the United States and around the world. For more details on Maria's Miracle Fund and Shaohannah's Hope, please visit www.showhope.org.
With his release of THIS MOMENT, Chapman has sold over ten million records including two RIAA certified platinum albums and seven RIAA certified gold albums. Along with his Dove and GRAMMY © awards, Chapman has won an American Music Award, has recorded 44 No. 1 US radio hits and been awarded 54 Dove Awards, more than any other artist to date. Since his recording career began in 1987, Chapman has recorded sixteen projects with Sparrow Records. He has performed at the White House and has appeared on multiple national programs via CBS, NBC, ABC, CNN, MSNBC, CMT, FOX20News, the Hallmark Channel and E!, including Good Morning America, Larry King Live, CBS Sunday Morning, The Tonight Show with Jay Leno, and more. More than five years ago, Chapman and his wife Mary Beth created The Shaohannah's Hope Ministry after bringing their first adopted daughter, Shaohannah, home=2 0from Chi na. The ministry's goal is to help families reduce the financial barrier of adoption, and has provided grants to over 1700 families wishing to adopt orphans from around the world.
# # #