- PROVIDENT'S FRIDAY BUZZ -
FOR THE WEEK ENDING AUGUST 15, 2008
BRANDON HEATH READIES FOR DROP OF WHAT IF WE NEXT WEEK

PHOTO OF NEVERTHELESS AND SKILLET AT COMATOSE TOUR
DATE IN CHATTANOOGA

MATT MAHER: MEET THE SCORPION

KRYSTAL MEYERS' "MAKE SOME NOISE" USED IN NBC FALL PROMOTION;
VIDEO WILL BE FEATURED ON FUSE ON DEMAND IN SEPTEMBER

BROOKE BARRETTSMITH AMPS UP FOR STREET
WEEK WITH CHICAGO PRESS
NEWS SOURCE: Provident Label Group
August 15, 2008
Brandon Heath Readies for Drop of What If We Next Week: Singer/songwriter and New Artist of the Year Brandon Heath is at the center of the Christian music scene on the eve of his sophomore album release What If We on Tuesday (Aug. 19). Heath's single "Give Me Your Eyes" has sold more than 24,000 single downloads in the three weeks since it released digitally, holding the No. 1 spot at iTunes. At radio, the hitbound song lands at No. 1 this week on CRW's CHR chart, and jumps to No. 2 on R&R's CHR chart, and up to No. 7 on R&R's AC-Monitored chart. Next week, he will also be the topic of numerous morning shows, radio and media stories. For more info on Brandon Heath, please visit www.brandonheath.net.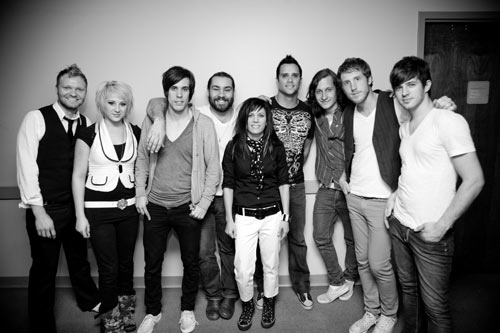 Photo caption:
Members of Nevertheless and Skillet pictured after Chattanooga show. (L-R) Ben Kasica, Jen Ledger, Adam Wann, Adam Rowe, Korey Cooper, John Cooper, AJ Cheek, Joshua Pearson, Brad Jones
Photo Credit: David Molnar
Photo of Nevertheless and Skillet at Comatose Tour Date in Chattanooga: Chattanooga, Tenn.-based rock quintet, Nevertheless, who will release its second album, In the Making…, on September 16, 2008, recently opened up for rock band Skillet (pictured above with Nevertheless). The show was a part of Skillet's Comatose Tour, which stopped in Nevertheless' hometown, Chattanooga. For more info on Nevertheless, please visit www.neverthelessmusic.com.
Matt Maher: Meet the Scorpion: Earlier this week, Essential recording artist Matt Maher had a run in with a scorpion in his hometown of Phoenix, Ariz. He was in his car driving when he noticed a sharp sting and burning sensation in his foot. Maher quickly removed his shoe and was shocked to discover a scorpion had crawled in and stung him. He decided to call 911 and the Poison Control Center to make sure he was going to be ok, and the 911 operator instructed him, "No need to do anything. Just tough it out. Don't be a wimp." To keep up with Maher and his speedy recovery, please visit www.mattmahermusic.com.
Krystal Meyers' "Make Some Noise" used in NBC Fall Promotion; Video will be on Fuse On Demand in September: NBC has selected "Make Some Noise," the title-track from pop artist Krystal Meyers' upcoming September 9, 2008 album, as its theme song to promote the NBC 2008 Fall line-up. The first promo spot featuring "Make Some Noise" aired August 8, 2008, during the 2008 Olympics opening ceremonies, and will continue on through the promotion of NBC's new Fall 2008 lineup. Also, in September, Krystal's video for "Make Some Noise" will be featured on Fuse On Demand, and will run through November. In addition, "Make Some Noise" has been selected to be on the official 2008 Olympics album, Olympics 2008 – One World One Dream. The project was approved by the International Olympics Committee. Krystal Meyers' song, "Make Some Noise," will appear alongside music from artists such as Pink, Avril Lavigne, John Mayer, Natasha Bedingfield, Fireflight, Boys Like Girls, among others. The album will release on August 8, 2008 worldwide, except the U.S., Canada and Japan (BMG Asia Pacific). For more info on Krystal, please visit www.krystalmeyers.com.
Brooke Barrettsmith Amps up for Street Week with Chicago Press: Pop rock artist Brooke Barrettsmith's hometown Chicago press rallied the release of her self-titled debut next Tuesday with a morning show performance on WGN-Chicago TV, a feature interview on Chicago's Concertlivewire.com, and several highlight stories in Chicagoland's local dailies. To read Brooke's interview with Concertlivewire.com, please click here. For more info on Brooke, please visit www.brookerocks.com.
###