GospelMusicHeritage.Com Goes Live Today, Dedicated Web Site for Inaugural Gospel Music Heritage Month in September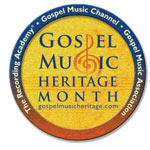 NEWS SOURCE: Spinhouse PR
August 19, 2008
ATLANTA, Aug. 19, 2008—The country's first-ever National Gospel Music Heritage Month is now supported by an exclusive web site dedicated to all aspects of the September celebration of gospel music's valuable long-standing contributions to American culture as www.gospelmusicheritage.com launches today.
The web site will build toward September, adding content that will include: special web-exclusive performances, programming and videos; interviews with legendary artists who've been instrumental in keeping gospel heritage alive, current and up-and-coming artists discussing their musical influences; gospel facts, figures and historical nuggets and more. Throughout September, visitors will also find calendars of local gospel concerts and events happening in their area as well as web banners and other materials that can be used to spread information on Gospel Music Heritage Month.
GMC has joined with Senators, Members of Congress, The Recording Academy® and the Gospel Music Association (GMA) to launch the "Gospel Music Heritage Month" initiative. The dual legislation in the House of Representatives (H.Con. Res. 370) and the Senate (S. Res. 595) designates September 2008 as "Gospel Music Heritage Month," honoring gospel music for its valuable long-standing contributions to American culture. The initiative was created by the Gospel Music Channel, the country's first and only 24/7 television network devoted to all forms of gospel/Christian music.
On-air, GMC will celebrate Gospel Music Heritage Month with world and network premieres, documentaries, original specials and series, short-form and interstitial pieces, music videos and more. Highlights include: Mahalia Sings! - rarely-seen performances by Mahalia Jackson every Sunday night at 7:00 p.m. hosted by Dorothy Norwood; documentaries on the gospel works of Elvis Presley, Johnny Cash, Al Green, The Dixie Hummingbirds and other greats; special presentations of GMC's biography series Faith & Fame featuring contemporary stars Kirk Franklin, Amy Grant, Michael W. Smith, Steven Curtis Chapman and others; the world television premiere of the 2008 BMI Trailblazer Awards, held in conjunction with and prior to the Stellar Awards and featuring exhilarating performances by gospel music's premier recording artists; two gospel/Christian music legends, Bill Gaither and Dr. Bobby Jones, bringing a multitude of performers together, and much more.
Gospel Music Channel is the fastest-growing network in television today and can be seen in more than 40 million homes on various cable systems around the country and nationwide on DIRECTV.