- PROVIDENT'S FRIDAY BUZZ -
FOR THE WEEK ENDING AUGUST 29, 2008
PROVIDENT ARTISTS PERFORM AT DISNEY'S NIGHT OF JOY

CASTING CROWNS THE ALTAR AND THE DOOR LIVE SEES
HIGHEST FIRST-WEEK SALES FOR BAND'S LIVE PROJECTS

BRANDON HEATH'S WHAT IF WE DEBUTS AT NO. 3 ON SALES CHART

ANNIE MOSES BAND GOES TO SCHOOL

NEVERTHELESS RELEASE NEW ALBUM AND HIT THE
ROAD FOR THE "UNBREAKABLE TOUR"

KRYSTAL MEYERS GEARS UP FOR RELEASE OF
MAKE SOME NOISE AND THE REVOLVE TOUR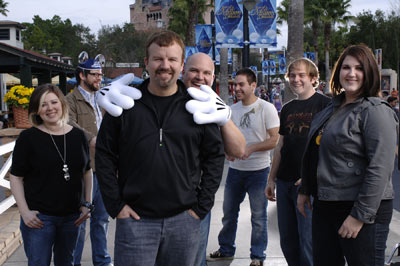 Photo Caption: Casting Crowns pictured at Walt Disney World® Resort.
(L-R) Melodee DeVevo, Juan DeVevo, Mark Hall, Andy Williams, Hector Cervantes, Chris Huffman, Megan Garrett
NEWS SOURCE: Provident Label Group
August 29, 2008
Provident Artists Perform at Disney's Night of Joy: Next weekend, Sept. 5-6, Christian music lovers from across the country will come together at Disney's Hollywood Studios™ for its annual spirit-filled music celebration, "Night of Joy," held at the Walt Disney World® Resort in Florida. Provident artists set to perform are New Artist of the Year Brandon Heath on Friday, Sept. 5, with GRAMMY-nominated, modern rock band Red and Christian music's four-time Group of the Year Casting Crowns (pictured above) both performing Saturday, Sept. 6. For more information on the event, please visit www.nightofjoy.com.
Casting Crowns' The Altar and The Door Live Sees Highest First-Week Sales for Band's Live Projects: GRAMMY-winning, multi-platinum artist Casting Crowns' The Altar and The Door Live debuted at No. 6 on Nielsen's Christian SoundScan chart this week, with more than 5,300 first-week sales, exceeding both debut sales weeks for the band's previous RIAA Platinum live projects Live From Atlanta (2004) and Lifesong Live (2006). The Altar and The Door Live is a 2-disc DVD/CD set featuring live cuts and footage from the band's 2007-2008 monumental headlining tour which played to nearly 500,000 fans. The DVD also includes 35 minutes of bonus content including a behind-the-scenes documentary of the tour, the band's powerful new "Slow Fade" music video and for the first time, teaching material from lead-singer/songwriter and Pastor Mark Hall. For more information, please visit www.castingcrowns.com.
Brandon Heath's What If We Debuts at No. 3 On Sales Chart: This week, singer/songwriter and New Artist of the Year Brandon Heath debuts his sophomore album release What If We at No. 3 on Nielsen's Christian SoundScan chart with more than 7,100 first-week sales. The album's breakout first single "Give Me Your Eyes" continues to hold the No. 1 spot on iTunes Christian chart for a fifth consecutive week, selling more than 38,000 total downloads across all digital providers. "Give Me Your Eyes" launched digitally just over a month ago with nearly 6,000 first-week sales, which claimed the highest debut week for a Christian track in 2008 to date (July 23). The project's smash song also lands at No. 1 this week on R&R's CHR chart, while again sitting at No. 1 on CRW's CHR format, and moving up to No. 5 on R&R's AC-Monitored chart, with 100 million cumulative impressions to date. For more information, please visit www.brandonheath.net.
Annie Moses Band Goes To School: Armed with a new curriculum for young string players and a 2009 Fine Arts Summer Academy Schedule, the Annie Moses Band is heading out for a series of performances for the Association of Christian Schools International. With plans to hit ACSI Conventions in Indiana, Minnesota, California and Washington D.C., the Annie Moses Band will play concerts, speak on music education and host a booth with information regarding their curriculum and Fine Arts Academies. "We want to lead a renaissance of the arts in the church and Christian Schools are a great place to start," says Annie Wolaver, lead singer and violinist for the sibling quintet. She continues, "Our albums, our concerts, the summer academies, everything we do, is driven by a simple message to children and adults alike, 'God deserves for us to make His praise glorious!' And, for us, that means musical excellence which begins with a good education." For more information about the Annie Moses Band and touring schedule, go to www.anniemosesband.com.
Nevertheless Release New Album and Hit the Road for the "Unbreakable Tour": Chattanooga, Tenn.-based rock quintet, Nevertheless will be hitting the road with fellow label mate Fireflight for the "Unbreakable Tour," which kicks off September 11, in Ocean City, N.J., just days before the September 16-release of its sophomore album, In the Making…. On September 24, the band will be playing a free show in its hometown of Chattanooga, Tenn., where there will be a pre-show skateboard competition. For more info on Nevertheless, please visit www.neverthelessmusic.com.
Krystal Meyers Gears up for Release of Make Some Noise and the Revolve Tour: Pop artist Krystal Meyers will release her third, in-studio album, Make Some Noise, on September 9, 2008. The 10-track project, entirely written or co-written by Meyers, was recorded in Brentwood, Tenn. at Dutchland Studio, and was produced by Doubledutch (Robert Marvin and Josiah Bell). Krystal will be live on RadioU the morning of September 9. To listen, please click here. Later that week, the Revolve Tour kicks off at the Nationwide Arena, in Columbus, Ohio. For more information on Krystal, please visit www.krystalmeyers.com.
###